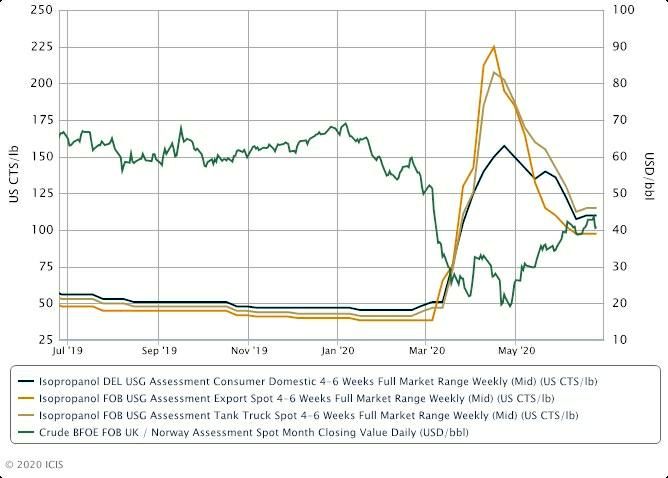 Petrotahlil - For the first time in more than three months, isopropanol (IPA) spot prices remained unchanged this week.
In May and June, markets gradually stabilised. Most price changes occurred at the high end of the market and were far smaller in scale than what was observed at the start of the coronavirus pandemic. However, this marks the first time prices did not change from one week to another.
In spot markets, prices are assessed at 100-130 cents/lb ($2205-2866/tonne) FOB US Gulf.
Domestic prices are assessed at 95-125 cents/lb ($2094-2756/tonne) delivered (DEL) US Gulf.
ICIS Editorial Chart goes here
With Q2 and H1 contracts coming to an end in the next week, several market participants observed that these longer-term contracts were being renegotiated.
While there were instances of price increases from producers on these contracts, the changes were much more in line with prices that were being seen presently in spot markets.
IPA Supply
Domestic IPA supply has increased. While not ample by traditional standards, it is higher than levels seen in more than three months. Market participants said that while there were still sales controls, allocation percentages were being increased by some producers.
However, for those seeking large volume orders, there are still logistical concerns. In these cases, buyers are often seeking multiple sources for larger orders.
IPA Demand
While demand is still high, it has fallen off from levels seen at the end of Q1 and the start of Q2
However, market players are monitoring the second wave of coronavirus cases emerging throughout the US.
After seeing cases fall in May, there has been a resurgence in the last two weeks, especially in parts of the US not deeply impacted during the initial wave, such as the south and southwest.
These were among the first states to reopen their economies, mostly in May. While there could be a sudden surge for IPA again due to increased cases and hospitalisations, that has not yet occurred.
US IPA suppliers include ExxonMobil, Dow Chemical, LyondellBasell, Monument Chemical and Shell Chemical.
ICIS
END