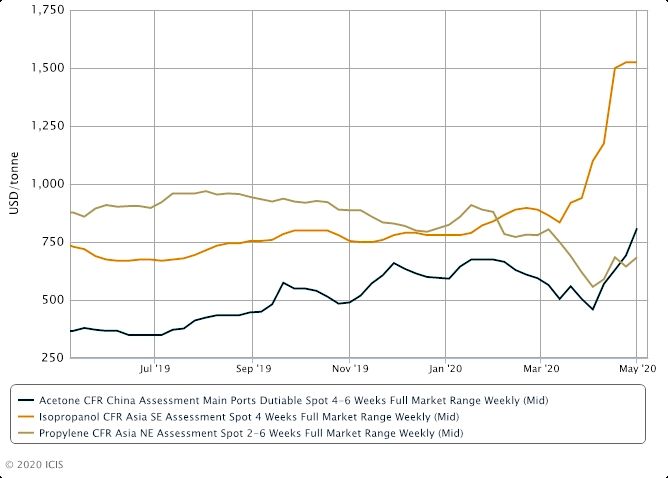 Petrotahlil
-Isopropanol (IPA) demand in southeast Asia saw a downturn for the first time since mid-March, when prices rose by a whopping 82.6% in the space of seven weeks amid the ongoing coronavirus pandemic.
With the added competition and influx of ethanol in some countries in southeast Asia, IPA demand took a hard hit.
IPA, along with ethanol, generally saw a spike in demand in recent months as downstream products such as hand sanitisers, rubbing alcohols and wet wipes flew off the shelves of retail stores amid the virus outbreak.
In countries like Thailand and Vietnam, where ethanol is also produced locally, high IPA prices proved to be a disadvantage.
Many downstream buyers switched to ethanol to produce disinfectants and hand sanitisers.
For example, in Thailand, domestic prices for IPA were around $1,800-1,900/tonne DEL (delivered), whilst ethanol prices were at $1,000-1,200/tonne DEL, according to market sources.
"The government is controlling ethanol prices to make sure it's fair for all, so a lot of downstream buyers have switched to buy ethanol instead," said a Thai trader.
As a result, demand for IPA has dwindled.
In other countries such as Singapore, Malaysia and Indonesia, where ethanol is still a strictly controlled substance, ethanol was not the main instigator in IPA's downtrend.
The Muslim fasting month of Ramadan dragged down demand.
"Sales [are] slow nowadays as most people are cooped up indoors amid social restrictions and lockdowns," said a southeast Asian trader.
Demand for June-loading cargoes were lackluster as importers stood on the sidelines, reluctant to conclude at high prices.
With a wide range of selling indications/offers at $1,250-1,550/tonne CFR (cost & freight) SE Asia, the import market remained hesitant.
Follow us on twitter @petrotahlil
ICIS
END