Asian R-PET demand outpaces supply on feedstock shortage.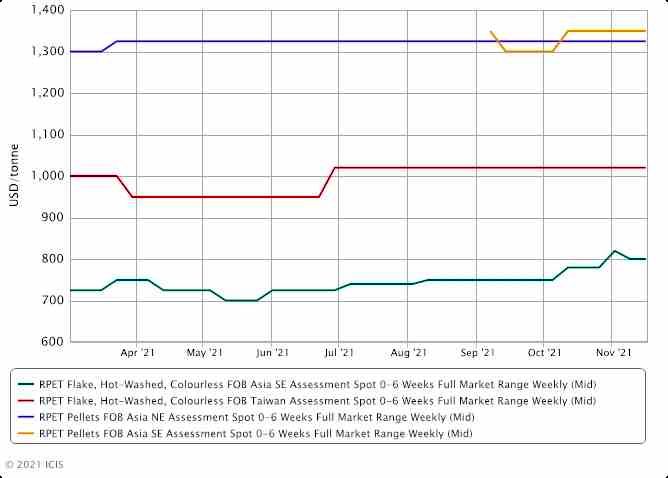 Petrotahlil - Strengthening demand for recycled polyethylene terephthalate (R-PET) in Asia will continue to outstrip availability of R-PET flakes and pellets for various grades, as persisting supply tightness of post-consumer bottle (PCB) bale feedstock hinders producers from operating at full capacity.
Appetite for bottle-grade R-PET has been steady across most parts of Asia even at the height of COVID-19 Delta resurgence as various companies adhered to their respective sustainability targets.
Demand for the bottle-grade R-PET has been boosted further by the relaxing of COVID-19 movement restrictions, stoking consumption of beverage bottles by local as well as international tourists, as some travel lanes were re-opened.
Demand for fibre-grade and film-grade R-PET pellets has been boosted recently as the end-markets including the textile sectors of Thailand, Indonesia and Vietnam resumed business, after partial or full closures during the height of COVID-19 resurgence.
Seasonal demand for winter clothing in northeast Asia and summer clothing in southeast Asia and Australia has bolstered buying appetite for fibre-grade R-PET flakes and pellets.
With an upbeat demand outlook, producers struggle to obtain sufficient PCB bale feedstock in their respective domestic markets to keep up with demand.
In southeast Asia, Thailand, Indonesia and Malaysia continue to face extreme shortness of bale feedstock due to low levels of waste availability as different segments of recycled polymers fight for volumes in the spot market.
Waste collection, particularly in Thailand, has been limited by the ongoing rainy season.
In South Korea, a joint venture of major companies has siphoned off most of bale feedstock from domestic aggregators to prepare for its chemical recycling facility. This has further constrained feedstock availability for small-to-medium mechanical recyclers in the country.
R-PET producers' margins remain narrow on higher operating costs in line with higher bids to secure sufficient bales.
Producers were opting either to raise their offers slightly or not to pass on costs to their downstream buyers to retain buying interest of their regular customers.
Outbound trade of Asian R-PET pellets has been minimal as buyers in deep-sea markets, including the US and Europe, resist lifting cargoes from Asia due to tight container availability and high freight rates.
In the week ended 16 November 2021, R-PET flakes prices were at $970-1,070/tonne FOB (free on board) Taiwan and $750-850/tonne FOB SE (southeast) Asia.
R-PET pellet prices were assessed at $1,200-1,450/tonne FOB NE (northeast) Asia and $1,200-1,500/tonne FOB SE Asia.
All quotes are unchanged from the previous week, with the low-end of the range reflecting prices for R-PET fibre and film grades, and with the high-end of the range reflecting R-PET bottle grade prices.
Follow us on twitter @petrotahlil
Source : ICIS
END