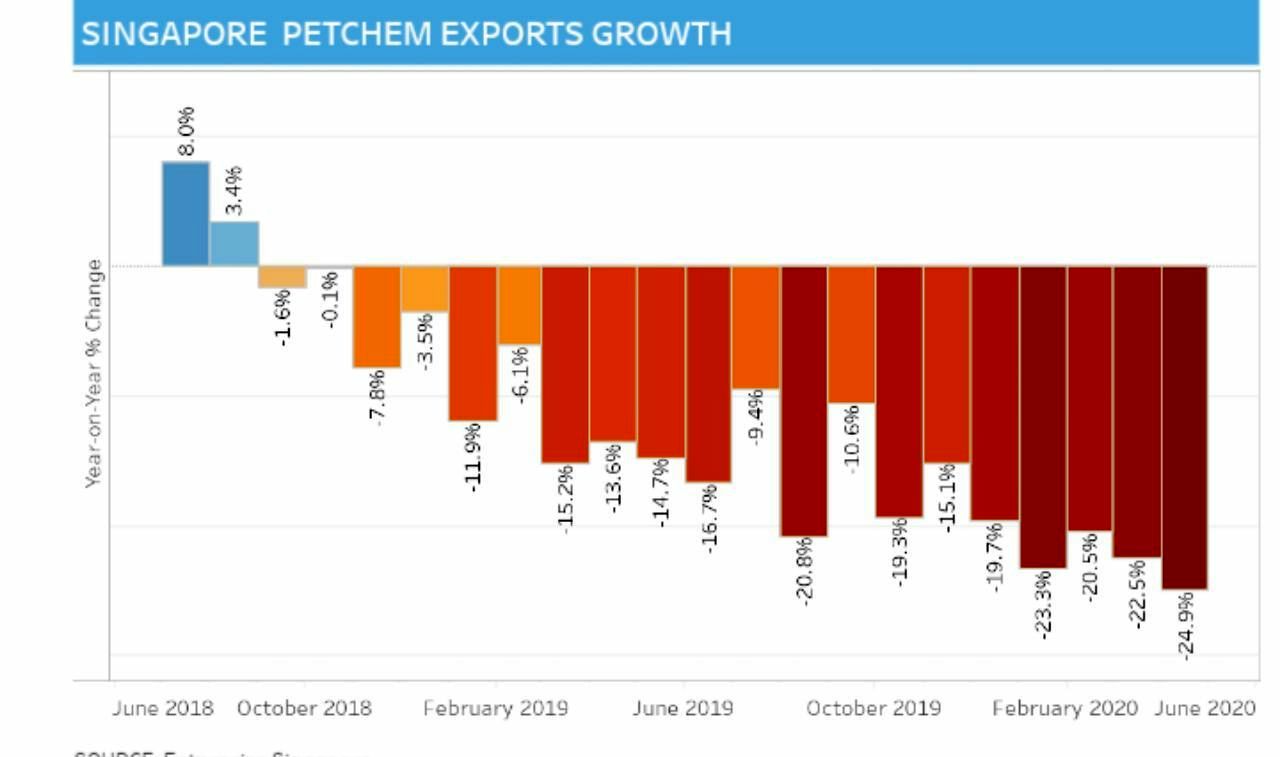 Petrotahlil --Singapore's trade prospects will continue to be clouded by the uncertainty surrounding the length and severity of the coronavirus crisis as major economies grapple with a sharp recession.
Singapore's petrochemical exports fell by 24.9% year on year in April, worsening from the 22.5% drop in March.
The April reading also marks the 20th straight month of contraction for petrochemical exports.
Overall non-oil domestic exports (NODX) unexpectedly rose by 9.7% year on year in April, led by higher overseas shipments of pharmaceutical, food preparations and non-monetary gold.
Excluding pharmaceuticals and gold exports, NODX growth turned negative for the first time in three months, falling by 5.6% year on year from the growth of 2.3% in March, reflecting the impact of the coronavirus pandemic on external demand.
"Despite the stronger-than-expected improvement in NODX in the past three months, we remain cautious on the outlook for external demand due to the pandemic and lockdowns," Japan-based Nomura Global Markets Research said.
"We also see the support from gold and pharmaceuticals exports as highly unlikely to be sustainable," it said.
The surge in pharmaceuticals output in the past few months mainly reflects the usual changes in the product mix and subsequent production in batches which has irregular cycles, rather than a sharp rise in demand linked to the coronavirus crisis, Nomura said.
Non-electronic NODX shipments to China fell by 34.4% in April, reversing the 0.1% rise in March. Overall exports to China fell by 31.3% in April following the trade disruption caused by strict lockdowns in China.
"The urgency to alleviate COVID-19 impact may continue to lift overseas demand for medical goods, in which Singapore is well-positioned to supply for especially given the intensified fears of a second COVID-19 wave in several economies that had recently eased social restrictions," Singapore's UOB Global Economics & Markets Research said.
Beyond NODX, Singapore's total exports fell by 12.7% year on year in April, the deepest contraction since March 2016.
"We keep to our outlook for NODX to contract by 1.0% in 2020 with downside risks, should the COVID-19 pandemic become more severe and protracted than anticipated," UOB said.
Trade-reliant Singapore is facing a major hit to its economic growth as it continues to suffer from global supply chain disruptions and negative knock-on effects on export demand.
"Given the ongoing global recession, we forecast Singapore's exports and imports to deteriorate further in Q2," said Sung Eun Jung, an economist Oxford Economics.
"Domestically, the large fiscal stimulus and monetary easing should help support consumption and investment to some degree. Nevertheless, we estimate the economic cost of the 'circuit breaker' period to be sizeable and forecast a sharp recession in Singapore in the first half," Jung added..
The Singapore government expects the country's GDP to shrink by 1%-4% this year. The country's economy contracted by 2.2% year on year in the first quarter of 2020.
ICIS
END