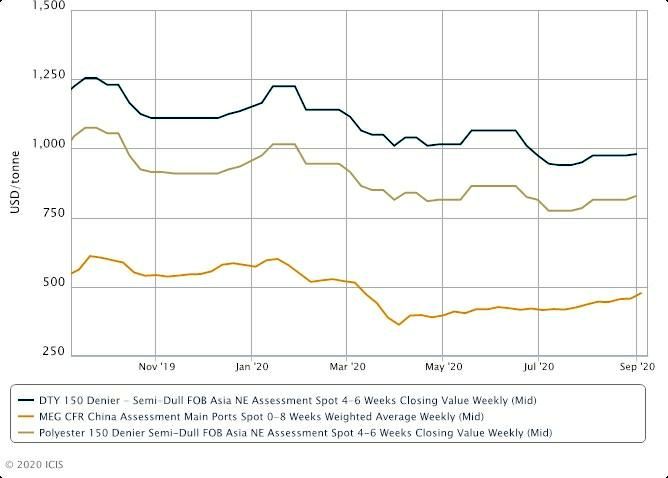 Petrotahlil - Polyester yarn prices in northeast Asia are rising on the back of higher feedstock cost and better offtake amid seasonally strong demand.
Spot discussions for polyester partially oriented yarn (POY) 150 denier (D) were at $0.83-0.88/kg FOB (free on board) NE (northeast) Asia, up from $0.80-0.86/kg FOB NE Asia in the week ended 1 September.
"We raised the offers to cover our margins as you know feedstock MEG [monoethylene glycol] is rising sharply recently," a major polyester producer said.
Feedstock MEG have risen to their highest in nearly six months on the back of tight supply due to output cuts and firmer crude futures.
Strong crude prices exerted upward pressure on the downstream polyester market.
Buying interest for polyester yarns improved as most downstream converters were replenishing cargoes during peak manufacturing season, which started this month.
"Export sales are picking up now, and I think it will sustain till October," a separate producer said.
For draw textured yarn (DTY) 150D, discussions this week were at $1.00-1.05/kg FOB NE Asia, while ICIS-assessed prices in the week ended 1 September stood at $0.95-1.01/kg FOB NE Asia.
Follow us on twitter @petrotahlil
Source : ICIS
END