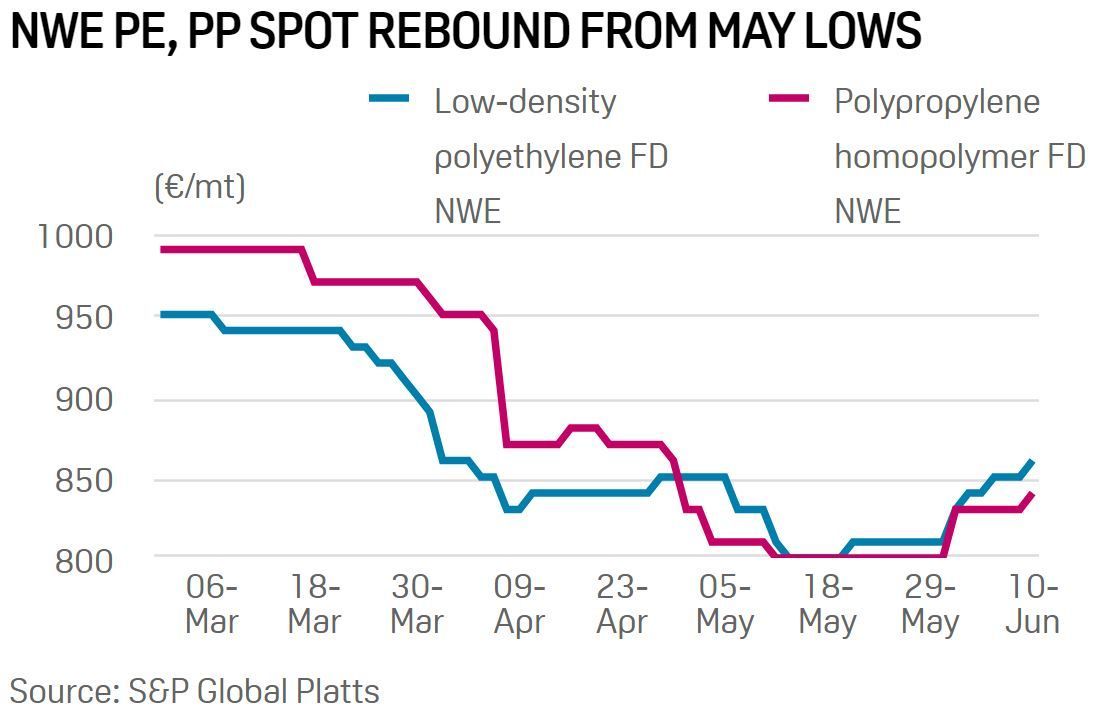 Petrotahlil — European petrochemical markets remain volatile with ongoing uncertainty around demand recovery as COVID-19 lockdowns begin to ease. Some petrochemicals have fared better than others during the pandemic, with plastics used for food and pharmaceutical applications finding support while those exposed to the automotive and construction sectors have struggled.
"Consumer non-durables and food packaging demand for polyethylene and polypropylene remain strong in light of the ongoing pandemic," said S&P Global Platts lead petrochemicals analyst Robert Stier.
"Demand for construction materials (PVC, polystyrene for insulation) is starting to rebound from the April lows as construction activity starts to resume following the stay-at-home orders around the world. Butadiene, which is primarily used for synthetic rubber used in tires, has also started to improve as auto manufacturers start up manufacturing operations," he added.
However, the challenge of reducing high inventories lingers for many plastics manufacturers in Europe while upstream recovery has begun to pressure feedstock costs.
The following are key facts about the latest developments affecting the European plastics and consumer goods markets:
Demand
Upstream ethylene has found support from consistent demand from the packaging and fast-moving consumer goods (FMCG) applications of some polyethylene grades and styrenics.
Strong packaging demand for hygiene and food applications continues to lend support to European polypropylene spot prices, while pressure remains on PP producers with large exposure to the automotive industry as demand from the sector is expected to remain depressed over the summer period.
Strong food, pharma and hygiene product packaging demand for polyethylene may slow on stable supply chains.
The polystyrene market sees packaging as a key outlet with automotive and appliance sectors closed -- dairy packaging is robust but vending machine demand is stagnant. Demand peaked for packaging in April and May on consumer stockpiling activity, say PS sources.
Both virgin and recycled PET had a bearish week this week as demand for both food packaging and beverage bottles look lower in June. The lack of mass gatherings over the summer is causing concern among brand owners and retailers and participants are trying to reduce stock positions.
Both PET and HDPE recyclers' margins remain pressured as limited demand is expected across the packaging sector over the summer and bales supply remains tight.
Higher up the PET chain, buying interest remains limited in the European PX market, with outright prices following Asia.
With greater exposure to the automotive sector, demand weakness continues to keep the European oxo-alcohols market under pressure. Butanols in particular are heard suffering from a supply overhang and a bearish outlook for the summer.
NWE PE, PP SPOT REBOUND FROM MAY LOWS
Prices
Ethylene prices have risen 10% since the beginning of June and are up 46% since the end of April, the height of the lockdown period. Gains were driven both by downstream demand for some applications together with the recovery in crude oil and naphtha prices.
European caustic soda supply was better balanced since the easing of lockdowns, with spot prices down by around 8% since the end of May.
European polypropylene spot prices have gained 5% from the beginning of June but have moved to a discount to the low-density polyethylene market where prices continue to rise.
R-HDPE pellet prices have remained largely stable over the course of June as buyers show caution amid low virgin pricing. However, activity has begun to pick up, recyclers report, as virgin spot prices recover and brand owners seek to re-evaluate their recycled HDPE purchasing
Ethyl and butyl acetate prices remained on a downward trend, assessed June 9 down 17.3% and 10.3% respectively from May 12. While demand from flexible packaging was quite good, buying from paints, coatings and automotive was yet to pick up, according to sources.
Both 2-EH and N-butanol spot prices lost around 19% in value since the end of March, and despite a June uptick in the upstream energy complex, oxo-alcohols producers were unable to pass on feedstock costs.
Infrastructure & trade flows
Pressure remains on polyethylene converters to reduce bloated lockdown stock levels ahead of the summer period amid economic uncertainty.
Polyethylene producers taper June margin expansion expectations as feedstock cost pressures resurface and threat of reduced demand emerges.
In Africa, demand in both the polyethylene and polypropylene markets was also heard to have improved somewhat, although news that Morocco does not plan to fully lift its state of emergency until July 10 was seen by the market as a sign that a return to normal market dynamics remains some way off.
Platts
END