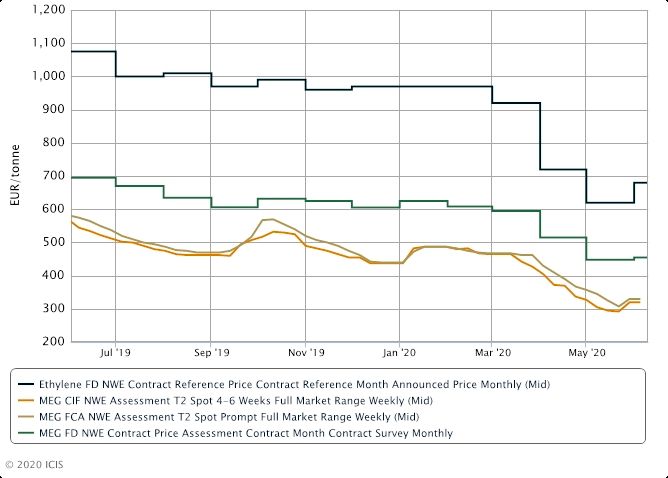 Petrotahlil --The June monoethylene glycol (MEG) contract has been fully confirmed at €455/tonne, a €7/tonne increase from May.
An agreement between a buyer and seller emerged at the end of last week, shortly after the ethylene contract price was fully confirmed at a €60/tonne from May.
Crude oil and naphtha values were on the uptrend last month on the back of oil production cuts.
A minimum 2+2 producer-consumer configuration is required to consider the MEG contract agreements fully confirmed.
A second buyer and seller confirmed the settlement to ICIS on Tuesday.
This is the first increase seen in the MEG contract market in 2020.
The May contract price was the lowest recorded monthly contract price settlement according to ICIS data.
The June settlement has narrowed the gap slightly between spot and contract levels. May spot prices had hit record lows and were significantly lower than contract prices.
Antifreeze and coolant consumption has been continually low during the covid-19 pandemic. PET demand levels have been at a more constant level during the lockdown period in Europe.
Supply has been lengthy in Europe due to these challenging demand conditions. US sellers have been sending more material to Asia due to better netbacks overseas and to offset the oversupply in Europe.
The spot market hit a turning point as May drew to a close last week, after rising feedstock costs bolstered sellers and reignited buying interest.
MEG is primarily used in the production of polyester fibres, resins and films (around 80% of global consumption), followed by use in PET resin. It is also used as automotive antifreeze.
ICIS
END