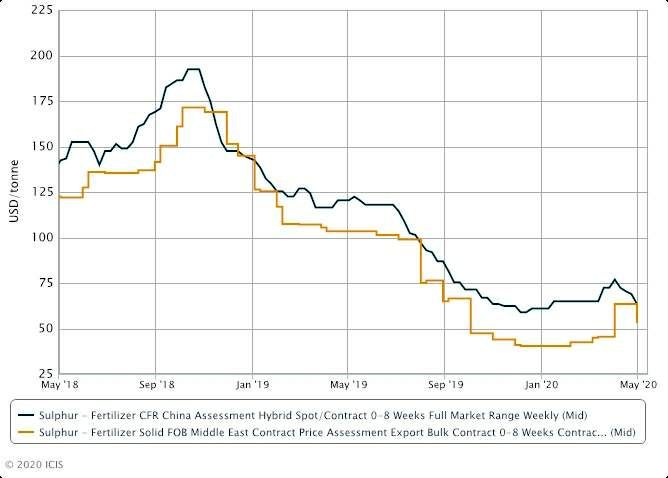 Petrotahlil - Pricing momentum in the global sulphur market was sustained for another week, with prices in the east rising to a 14-month high.
STRONGER PRICES IN MIDDLE EAST AND CHINA
In the Persian Gulf, Qatar's Muntajat kicked off the November posted prices announcement with a $4/tonne increase on October's price. The new price is the highest announced since August 2019. Market players await announcements from the region's other major suppliers.
In China, market players broadly confirmed prices are in the low/mid-$90s/tonne CFR, A level also last seen in August 2019.
Several cargoes were heard sold to the Yangtze river at $93-95/tonne CFR.
International offer prices were further supported by stronger prices from the Persian Gulf, following the announcement of the Qatar Sulphur price.
Domestic deals for spot granular sulphur were done at CNY755-760/tonne ex-works, up CNY5-10/tonne from the previous week. Each deal was for around 3,000 tonnes, with total volumes around 10,000 tonnes, as at 28 October.
Sinopec Puguang Gasfield raised its offers by CNY30/tonne on October 27 to CNY810/tonne for shipments at Wanzhou port and to CNY780/tonne for truck cargoes.
Tender activity continued in India, with FACT re-issuing a purchase tender for 15,000-25,000 tonnes for delivery in late-November to December.
Coromandel (CIL) is understood to have closed a tender for a total of 50,000 tonnes but an award was not announced.
The Mediterranean market has also picked up with higher prices in Turkey, Italy and Israel.
ACTIVITY THIN IN NORTH AMERICA
In Canada, no new business was heard.
Suncor's sulphur plant in Montreal started a planned maintenance mid-September that was to last through the end of October.
Suncor's Edmonton refinery has also been undergoing maintenance. Refinery utilisation was 87% for the quarter.
Pacific Coast Terminals started a three-week cleaning of its water storage tanks on 19 October, but it is not impacting sulphur operations at the terminal.
In the US, the Gulf remains void of sulphur activity, and Hurricane Zeta made landfall on Wednesday afternoon south of New Orleans, Louisiana.
Ports and refineries shut ahead of Zeta, the sixth named storm to make landfall on the US Gulf Coast this season.
The Nord Amazon will load 15,000 to 18,000 tonnes of sulphur in Anacortes, California, in the first week of November. California inventories remain low.
Follow us on twitter @petrotahlil
Source : ICIS
END