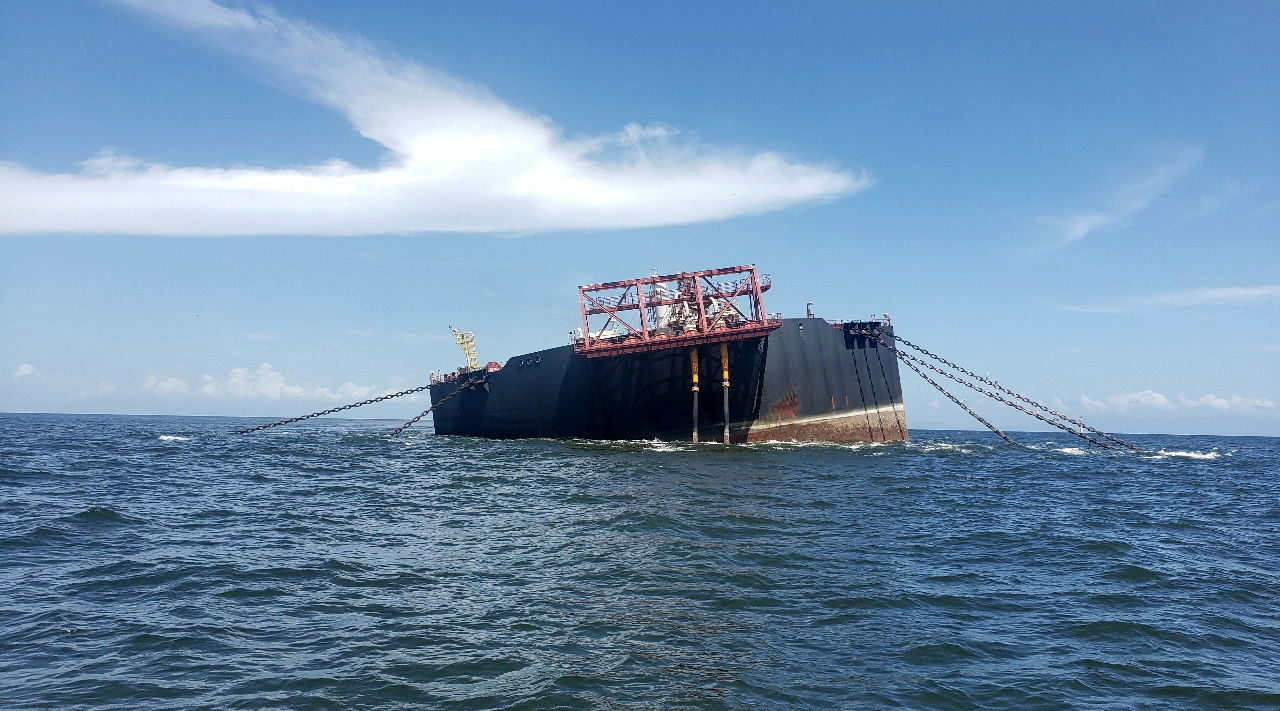 PDVSA crude storage vessel holding more than 1 mil barrels at risk of si
HIGHLIGHTS
Eni offered a plan to safely offload, but wants US approval
Aframax or Panamax class ship with dynamic positioning is needed for a safe offloanding.
PDVSA fears an environmental disaster if the ship breaks up
Petrotahlil — The floating storage and offloading vessel Nabarima is in danger of sinking off the Venezuelan coast with more than 1 million barrels of crude, but state-owned oil company PDVSA does not have the equipment necessary to guarantee the success of a complicated effort to transfer the cargo to another ship, sources said Oct. 22.
The Venezuelan ship, whose cargo of Corocoro and Pedernales crudes has not found a market, has been immobilized and anchored in the Gulf of Paria in northeastern Venezuela since January 2019. PDVSA has not been able to properly maintain the vessel and imports of much needed replacement parts are currently blocked by US sanctions in place against Venezuela since 2019, heightening the risk of a spill.
"To transfer the crude, an Aframax or Panamax class ship with dynamic positioning is needed, of which there are less than 30 in the world," said a PDVSA official with knowledge of the case, who spoke on condition of anonymity.
"Since 2019, there have been several attempts to offload the cargo, one of them with the tanker Petion, but they were not successful," the source added.
FSO Nabarima is an unmotorized, double hulled tanker with no steering capability that is connected by a system of pipelines to a producing offshore oil field known as Corocoro located 22 kilometers from the FSO.
According to the PDVSA official, the Nabarima is storing 1.3 million barrels of heavy Corocoro and Pedernales crudes with 2.8% sulfur content produced by the Petrosucre joint venture (PDVSA 74%, Italy-based ENI 26%) and Petrowarao (PDVSA 60%, France-based Perenco 40%).
US sanctions on Venezuela have complicated efforts to offload the vessel. Italian oil company Eni offered to assist Venezuela with the effort, but only if the US approves.
"Eni is ready to perform activities to ensure the safe offloading of the Nabarima FSO located offshore Venezuela, using state-of-the-art solutions," said a spokesperson in Eni's media relations office in an email.
"Eni will be able to proceed only after approval of its plan by PDVSA (majority shareholder and operator in Petrosucre) and upon formal assurance by the competent US authorities that the mentioned activities bring no sanctions risk either for Eni and its contractors," the spokesperson added.
However, PDVSA, which fears an environmental disaster if the ship breaks up, is preparing a new effort on its own to extract the crude from the tanker using a vessel named Icaro flying a Panamanian flag with the assistance of the Panamanian tugboat Loto and the Venezuelan tug Morocoto.
In addition, technical personnel have been assembling on dry land near where the storage vessel is anchored since early October in preparation for the new attempt.
Neither PDVSA nor the Venezuelan maritime authorities have offered information on these movements near the Nabarima FSO.
According to an internal PDVSA report reviewed by S&P Global Platts, production by the joint ventures was halted in October 2019 because the storage capacity of the FSO Nabarima had been reached. The only company in Venezuela capable of providing crude transfer services was Knutsen OAS Shipping , which stopped providing the service after one of its vessels, which was under contract with PDVSA subsidiary US Citgo, was left in legal limbo for several months with 950,000 barrels of crude that it could not deliver due to US sanctions.
"North America-based Citgo was the only client for these types of crude but with US sanctions going into effect in January 2019, and the takeover of Citgo by the opposition to President Nicolas Maduro, the traditional client was lost," the PDVSA official said.
"PDVSA has no place to store this crude, which usually was sent to terminals in Curacao or Bonaire before sending it to the end client in Texas. If efforts to extract the crude are successful, it will be placed in unspecified floating storage in waters close to the Amuay refinery in western Venezuela," he added.
"Corocoro-Pedernales is a crude that cannot be processed in Venezuelan refineries because of its high residual vacuum content and high salinity. However, the Citgo refineries in Lake Charles and Corpus Christi can process it. Perhaps refineries in India or Asia can process it, but the volume is small for these destinations and the offers [that PDVSA has] received to purchase it have been uneconomical," the official said.
What worries PDVSA is that maintenance of the Nabarima vessel "has not been optimal." Constructed in 2005 with a useful life of 25 years, it is in need of replacement parts whose imports have been blocked by US sanctions, according to an internal report.
PDVSA could not be reached immediately for comment and PDVSA's foreign partners are not authorized to comment to the press.
Follow us on twitter @petrotahlil
Source :Platts
END