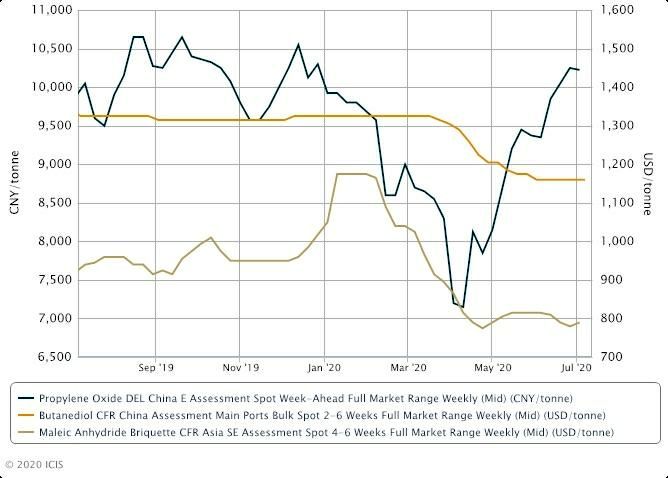 Petrotahlil - Asia's butanediol market held steady again this week, extending the stable trend that started several weeks back.
The reduction of output in China from early June helped stem the price decline in the domestic market.
The domestic market saw trades at yuan (CNY) 7,400-7,700/tonne DEL in recent weeks, after falling from CNY9,600/tonne DEL in March, ICIS data showed.
However, demand showed little signs of improvement with some suppliers doubting a significant recovery being possible in the third quarter.
Previously, some participants were cautiously optimistic of renewed vigour in the market in the third quarter, as economies world wide exit or start to exit their lockdowns and ease restriction measures.
"Overall demand is still weak, with key sectors like spandex and automotive in Asia and Europe mostly soft," said an end-user in South Korea.
BDO is a chemical intermediate used in the production of polymers, solvents and fine chemicals.
With lower output in China extended into July, market participants expect the market to continue consolidating. However, few expect a sustained uptrend to emerge in the near term as demand remained in a low ebb.
"The market will likely stay flat while demand will take more time to come back," said a distributor in Singapore.
Nonetheless, as activity in continued to gather pace post lockdowns and supply chains move towards normality, some participants are cautiously optimistic of some demand uptick in the later part of the third quarter or from the fourth quarter.
($1 = CNY7.02)
Source : ICIS
END