* (post-consumer recycle) | ** (post-industrial recycle)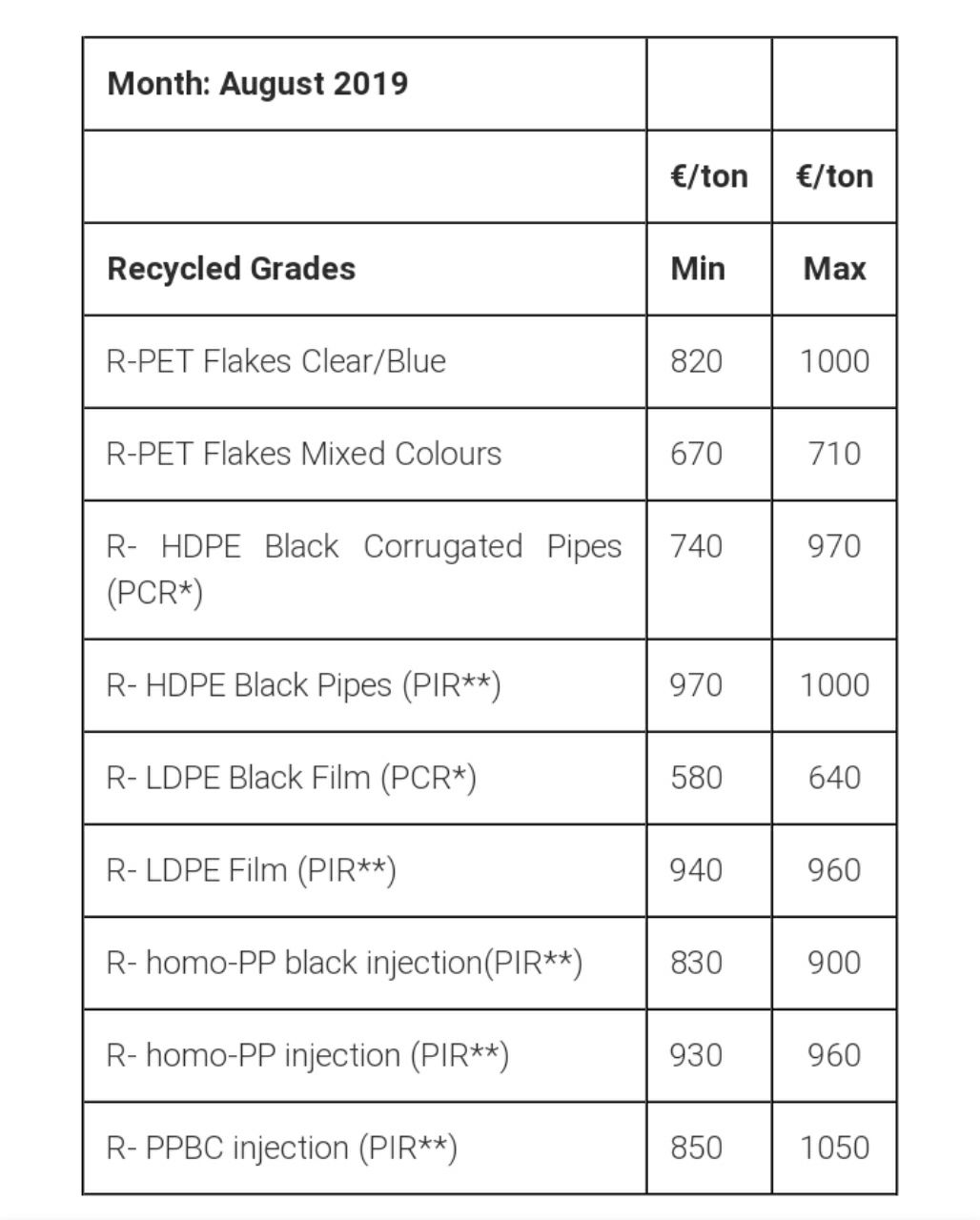 Petrotahlil :
R-PET Flakes market sees stable to softer trend in Aug
The R-PET Flakes market witnessed another month of stable to slightly softer prices in August, although the downtrend lost steam compared to July.
In Italy, the R-PET Flakes range was quoted at €840-910/ton for clear grade on FD basis, while prices for R-PET light blue grade were reported at €820-860/ton with the same terms. As for R-PET mixed colors flakes, prices were reported at €670-710/ton FD. R-PET Flakes prices for clear grade in Northwest Europe were softer compared to July, at €950-1000/ton FD.
Demand for R-PET Flakes was rather subdued in August, especially in Italy due to the traditional summer lull. Several players decided either to skip or to purchase less volumes than usual as they closed their plants for 2-3 weeks during August. Moreover, the current low levels of prime PET prices continued to exert pressure on the R-PET Flakes market. A converter in the packaging sector said, "We decided to purchase some cargoes of clear grade material even though we reduced our production rates during August. We paid almost the same price for prime PET and R-PET Flakes as the gap is really tight". In Northwest Europe, overall flakes availability was reported as comfortable and prices witnessed a slight softening from the previous month due to weaker demand.
Players expressed their uncertainties about the September outlook, although some of them expect mostly an unchanged trend for next month. In terms of supply, availability should remain comfortable amid higher consumption of PET bottles during the summer. Yet, market participants are waiting to see what will happen in prime PET market in the near term, taking into account several factors like global economic uncertainties, weather conditions and concerns related to sustainability.
R-HDPE market mostly stable
Trading activities in the R-HDPE were subdued during August as most companies shut their plants and halted their production during the summer break in Italy. Overall prices were reported as stable amid unchanged market dynamics. A recycler commented, "We suspended our activities during August due to the summer lull, but our notional prices remained stable from July. As for September, there may be a fresh softening if demand does not see a recovery." Overall supplies remain ample in the R-HDPE while demand was almost muted this month. Buying interest may rise in September, considering that most buyers skipped their purchases in August or they postponed them to the next month. However, R-HDPE price trend may remain under pressure in September due to the multi-year low prices in prime HDPE market, despite the recent stabilization.
R-LDPE prices are stable to slightly softer on lack of activity.
The R-LDPE market followed a stable to slightly softer trend in August while trading was almost at a standstill due to the summer holidays. A distributor closed his sales before leaving his desk for the rest of the month, commenting, "We applied small reductions of €10-20/ton as supply is comfortable, demand is scarce and we had kept our prices stable during July. Yet, we sold less volumes than usual this month." Players are now wondering whether R-LDPE prices will be unchanged next month, following the stabilization in prime LDPE market that was seen this month.
R-PP market mostly flat during August.
The R-PP market remained stable in August, after the majority of deals were concluded in the first week of the month, before players left their desks for the summer break. A buyer said, "We skipped our purchases this month as August was extremely calm, but we received stable offers as supply is more than comfortable." A recycler reported to have maintained stable prices as they closed their plant for three weeks in August. Regarding September outlook, expectations are calling for a possible downtrend as prime PP prices tracked a softer trend in the past few months while they stabilized during August.
Price ranges reported include an average freight cost to the customers' location as well as duties if applicable, although VAT is not included.
Follow us on twitter @petrotahlil
END