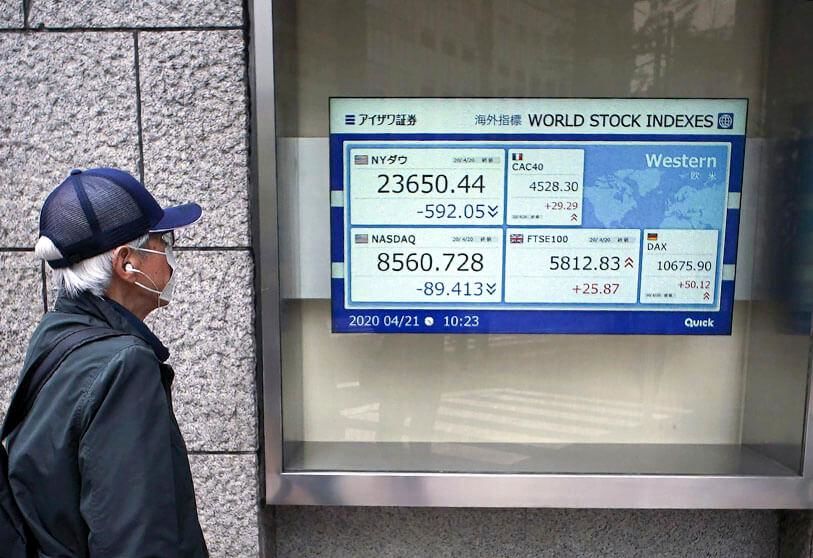 Petrotahlil --Asia's petrochemical shares were mostly lower on Tuesday on new lockdowns in parts of the region amid the unabated surge in coronavirus cases, which topped 90m globally.
At 02:50 GMT, Mitsui Chemicals slumped nearly 4% in Tokyo and LG Chem fell by around 2% in Seoul.
Japan's benchmark Nikkei 225 shed 3.80%, South Korea's KOSPI Composite slipped by 0.30% and Singapore's Straits Times Index was down by 1.24%.
| | |
| --- | --- |
| Company/Stock Exchange (at 02:50 GMT) | % Change |
| Nikkei 225 (Japan) | -3.80% |
| Asahi Kasei Corporation | 1.57% |
| JXTG Holdings, Inc. | -1.68% |
| Mitsubishi Chemical Holdings Corporation | -3.77% |
| Mitsui Chemicals, Inc | -3.87% |
| Hang Seng Index (Hong Kong) | -0.92% |
| Sinopec Shanghai Petrochemical Company Limited | -0.54% |
| PetroChina Company Limited | -1.90% |
| KOSPI Composite Index (South Korea) | -0.30% |
| OCI Company Ltd | 1.35% |
| SK Innovation Co., Ltd. | 0.22% |
| LG Chem, Ltd. | -2.11% |
| Lotte Chemical Corporation | 3.66% |
| Hanwha Corporation | 1.41% |
| TSEC weighted index (Taiwan) | 0.15% |
| Formosa Petrochemical Corporation | 0.76% |
| Nan Ya Plastics Corporation | -0.90% |
| Formosa Chemicals & Fibre Corporation | -0.58% |
| STI Index (Singapore) | -1.24% |
| Wilmar International Limited | -1.53% |
| Olam International Limited | 0.68% |
| FTSE Bursa Malaysia KLCI (Malaysia) | 0.44% |
| SSE Composite Index (Shanghai, China) | 0.15% |
| Jakarta Composite Index (Indonesia) | 7.31% |
| PT Chandra Asri Petrochemical Tbk | 1.26% |
Investors are now weighing the impact of new lockdowns across Asia, as global cases stood at 90.9m, with 1.94m deaths, according to data from US-based Johns Hopkins University on Tuesday.
Malaysia's Royal Palace declared a national emergency on Tuesday to battle the coronavirus pandemic that has killed as many people this year as the whole of 2020 in the country.
The country's Prime Minister Muhyiddin Yassin announced the previous night a nationwide travel ban and a 14-day lockdown in the capital and five states, as the southeast Asian nation recorded more than 2,000 new cases on 10 January.
Malaysia has 135,992 confirmed coronavirus cases, with 551 deaths as of 10 January, according to the World Health Organization (WHO).
Japan is expected to decide this week to expand a state of emergency declared over the coronavirus pandemic to Osaka, Kyoto and Hyogo prefectures.
Prime Minister Yoshihide Suga last week declared the one-month state of emergency covering Tokyo and the neighboring prefectures of Chiba, Kanagawa and Saitama.
"The new state of emergency is likely to trigger a modest quarter-on-quarter contraction in GDP growth in Q1 2021. The designated areas account for some 17% of the country's total population and 25% of the country's GDP," Singapore's DBS Bank said in a research note.
Kanagawa is an important manufacturing base of transport equipment, chemicals and petroleum products, DBS said.
As of 10 January, Japan has 286,752 coronavirus cases and 4,044 deaths, WHO data showed.
China had its biggest daily increase in coronavirus cases in more than five months on 10 January, largely on rising cases in Hebei province.
Hebei accounted for 82 of the 85 new local infections reported on 10 January, prompting the government to place its capital Shijiazhuang under lockdown, with a total lockdown in effect in the county of Gaocheng.
Major highways were blocked, train and bus stations closed and flights cancelled in Shijiazhuang.
"Shijiazhuang, the 11mn-population capital city of North China's Hebei province, appears to have become the new epicenter of the coronavirus in China," Japan's Nomura Global Markets Research stated in a note on 11 January.
"A number of regions in North China, including cities/districts in Beijing, Hebei, Liaoning, Heilongjiang and Inner Mongolia, with a combined population of more than 100mn, have entered 'wartime mode' to fight the latest wave of virus," it added.
Based on latest WHO tally, China has 97,652 confirmed coronavirus cases with 4,799 deaths.
The coronavirus outbreak started in late 2019 in China's central city of Wuhan.
Meanwhile, US political uncertainties amid threats of violence in the run-up to the inauguration of Democrat Joe Biden as the 46th US president on 20 January were also dragging down market sentiment in Asia.
Overnight, the Dow Jones Industrial Average slid 0.3% while the S&P 500 dipped 0.7%.
US President Donald Trump late on Monday approved a state of emergency declaration in Washington, after US law enforcement officials warned of threats before President-elect Joe Biden's inauguration.
Political tensions were high in Washington at the start of the week as House Democrats introduced an article of impeachment against Trump for inciting the mob attack on the Capitol on 6 January.
Follow us on twitter @petrotahlil
END