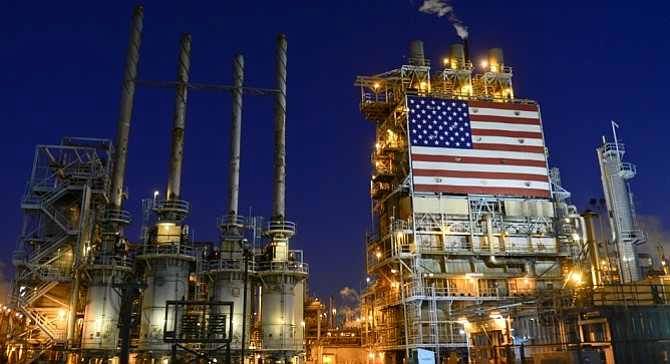 Petrotahlil - US propane production is expected to grow in 2021 as crude and natural gas output begins to recover from Covid-19-related shut-ins while overseas demand remains strong.
US crude oil and natural gas production fell as prices crashed in the early months of the pandemic, but propane demand remained high. China and India accounted for a larger portion of global LPG demand for both the residential and petrochemical sectors early in the first quarter, and demand remained elevated as those countries began reopening in the summer.
The Energy Information Administration's December Short-Term Energy Outlook estimated the US will produce 1.66mn b/d of propane from gas plants in 2020, compared to 1.59mn b/d produced in 2019. The agency forecasts 1.6mn b/d in propane production volumes from gas processing in 2021, although midstream operators have a more optimistic view.
Houston-based midstream operator Enterprise Products Partners in July reported natural gas processing inlet volumes in the Permian basin had recovered by as much as 98pc from March lows. Enterprise in a December investor presentation predicted that US production will begin to recover in 2021 as some of the previously shut-in volumes return.
Conway, Kansas, propane is expected to remain at a discount relative to Mont Belvieu, Texas, propane in the first quarter of 2021 as high inventories and weakness in seasonal demand pressure midcontinent in-well propane prices.
Conway propane averaged a 4¢/USG discount to Mont Belvieu, Texas, LST propane in December compared with about a 2¢/USG discount in December 2019. High midcontinent inventories, more southbound pipeline capacity and warmer-than-normal weather were the major factors pressuring midcontinent propane lower, while US Gulf coast propane prices are supported by export demand.
Propane inventories in the US midcontinent remain above the five-year average and higher than in 2019, while the National Weather Service's Climate Prediction Center expects the midcontinent to have near-average to above-average temperatures in the first quarter of 2021.
A slow start to the US heating season kept midcontinent inventories elevated, which stand 13pc above last year and the five-year average at 23.1mn bl for the week ended 18 December, according to the EIA.
In 2020, midcontinent natural gas liquids (NGL) production, particularly propane, was shipped south to the higher-priced market in Mont Belvieu on Oneok's Sterling and Arbuckle pipeline systems. Additional pipeline capacity that came on line in 2020 has kept the north/south propane arbitrage wider in 2020.
Oneok brought its Arbuckle II NGL pipeline on line in April, adding 400,000 b/d to the existing capacity on the Arbuckle North pipeline of over 200,000 b/d. Both Arbuckle pipelines carry unfractionated NGLs from the midcontinent to Gulf coast storage and fractionators.
Commissioning of the Arbuckle II pipeline has freed more space on Oneok's Sterling pipeline system for purity products to be sent to Mont Belvieu. The Sterling I, II and III systems, which carry NGLs from Medford, Oklahoma, to the Gulf coast, have a total capacity of about 445,000 b/d.
Follow us on twitter @petrotahlil
Argus
END