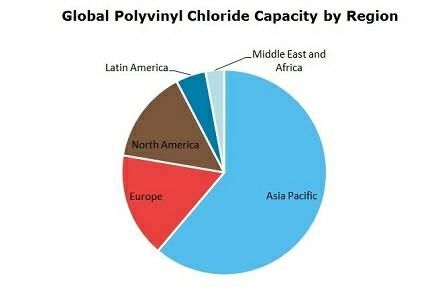 HIGHLIGHTS
Orbia informs customers of lower PVC rates "in the coming weeks"
Reduction stems from VCM supply shortages from US suppliers
Petrotahlil - Orbia, the largest polyvinyl chloride producer in Latin America, will reduce rates at its PVC plants in Mexico and Colombia "in the coming weeks" because of a squeeze in upstream vinyl chloride monomer supply, according to a customer letter from its Vestolit PVC subsidiary seen Oct. 16 by Platts.
The letter said a supplier had notified Vestolit that "due to unexpected external failures they have been experiencing operational outages in their production plants." In addition, the company's main supplier has a VCM turnaround slated for November, Veslolit said in the letter, dated Oct. 6.
Orbia did not respond to a request for comment.
Orbia's 2019 annual report noted that the company buys VCM from third parties, mainly Westlake Chemical and OxyChem, the chemical division of Occidental Petroleum. Orbia also co-owns a 550,000 mt/year cracker with Oxy in Ingleside, Texas.
Westlake's pair of VCM plants with a cumulative capacity of 952,543 mt/year have been shut down since Hurricane Laura's Aug. 27 landfall, six weeks before Hurricane Delta followed the same path as Laura through Lake Charles.
And Oxy has a partial maintenance outage on tap in November at its 953,000 mt/year VCM plant in Ingleside, according to sources familiar with company operations. Occidental did not respond to a request for comment.
Westlake declared force majeure on VCM and PVC on Aug. 31 after Hurricane Laura's Aug. 27 landfall that hit the company's Lake Charles, Louisiana, complex. The company had restarted its three chlor-alkali plants there, but had to shut them down again before Hurricane Delta came ashore Oct. 9, interrupting the overall restart process.
Delta was weaker than Laura and did not repeat Laura's widespread severe damage of major electricity transmission lines. Entergy, the region's power provider, said Oct. 14 that power would be restored in Lake Charles that day, allowing chemical producers to fully test systems and begin restarting units.
Westlake was working to restart its Lake Charles, Louisiana, complex, including two VCM plants with a cumulative capacity of 952,543 mt/year, according to a company statement issued Oct. 12.
Vestolit has a cumulative 1.8 million mt/year of PVC capacity at its plants in Mexico and Colombia, according to its 2019 annual report.
The company's customer letter said that the combined VCM supply issues "will affect the raw material supply to our plants in Mexico and Colombia and impact our ability to run at full capacity, limiting our product availability during the coming weeks."
The squeeze further tightens already tight global PVC supply. Brazilian petrochemical producer Braskem has been running its two PVC plants with a cumulative 710,000 mt/year capacity at reduced rates because of a lack of spot upstream ethylene dichloride availability in the US.
Fabio Barbosa, Braskem's commercial head of chlor-alkali, said in September that rates would decline in October ahead of the company's restart of its own chlor-alkali and EDC operations in November after a 17-month shutdown.
Formosa Plastics USA declared FM on US PVC Aug. 14 after an upstream chlor-alkali turnaround lasted several weeks longer than planned, leaving downstream EDC stocks depleted. That FM remained in effect Oct. 16.
Shintech also is conducting maintenance at its Plaquemine, Louisiana, PVC complex in October, which has prompted reduced rates rather than a full shutdown, according to sources familiar with company operations. The company did not respond to a request for comment.
In addition, three European producers have FMs on PVC in effect because of various upstream issues.
French PVC producer Kem One declared FM Oct. 13 on PVC from two sites in France, while Shin-Etsu, Shintech's parent, declared FM the same day on PVC from its Pernis site in the Netherlands. Inovyn's FM declared Sept. 1 also remained in effect Oct. 16.
Supply squeeze boosts PVC prices
All those issues have pushed up prices across the regions, S&P Global Platts data showed.
US export PVC prices fell 39% in six weeks to a 12-year low of $520/mt FAS Houston on April 29, when widespread coronavirus pandemic-related shutdowns crushed demand. Prices have since more than doubled, last assessed Oct. 14 at $1,150/mt FAS Houston, a nine-year high, as demand strengthened while supply tightened.
European PVC prices were last assessed Oct. 14 at $1,115/mt FOB NEW, up 59% from $700/mt FOB on April 29. The CFR Turkey marker was last assessed Oct, 14 at $1,250/mt, up nearly 84% since April 29.
Asian prices have risen 68% to 71% since that date to last be assessed Oct. 14 at $1,130/mt CFR India, $1,060/mt CFR China and $1,080/mt CFR Southeast Asia, the latest push coming from November offers up $90-$100/mt over October levels.
And Latin American prices are among the highest globally. The West Coast South America market, which includes Colombia, has more than doubled since April 29 to last be assessed Oct.14 at $1,245/mt CFR WCSA, just $5/mt under the CFR Turkey price.
The CFR Brazil marker tops them all at $1,270/mt, up from $670/mt on April 29.
Market sources expect the squeeze to last through the end of 2020, particularly with Hurricane Delta having interrupted Westlake's restart post-Laura.
"Market is crazy and I don't know when it will get normal," a Latin distribution source said.
A US trade source noted, however, that prices were expected to soften by January if the FMs are lifted, maintenance wraps up and supply becomes more available at a time when demand typically slows in the US and Europe during winter months.
Follow us on twitter @petrotahlil
Source : Platts
END