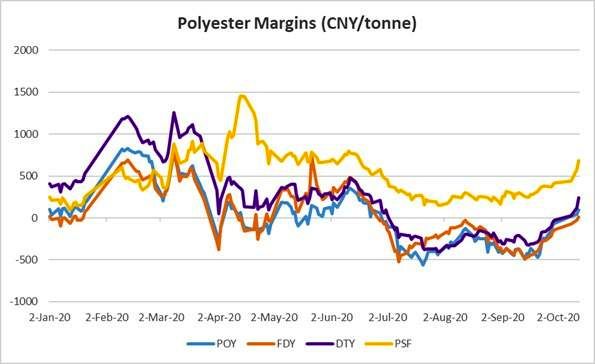 Petrotahlil -Some petrochemical markets in Asia took the cue from strong post-holiday gains in China caused by restocking and tight supply, with the sudden price surge likely to cool off buying appetite in the near term.
There are expectations that China's imports would weaken for selected products following recent sharp gains in regional prices, while its exports are constrained by the strong yuan.
In the styrene monomer (SM) market, strong buying sentiment to November cargoes amid limited supply sent prices soaring to their highest levels since March 2020, with discussions at above the $700/tonne CFR (cost & freight) China levels.
SM inventory levels in China are expected to decrease sharply in October as downstream producers are still operating their plants at high rates, said ICIS analyst Jimmy Zhang.
The stocks should rise again in November and December as new capacity comes on stream before the year ends, he said.
In the purified terephthalic acid (PTA) market, prices in Asia were being driven up by robust demand and strong gains in downstream polyester sector.
Spikes in most polyester prices led to sharp improvement in margins among producers.
Polyester's strong performance was also fueling gains in upstream monoethylene glycol (MEG), whose spot regional prices have surged by more than 6% from end-September.
Polyester plants in Asia are running higher to cope with increasing buying enquiries and amid falling inventories.
Strong post-holiday demand coincided with some tightness in MEG supply due to ongoing and upcoming plant maintenance in both Asia and the Middle East.
Inventory levels across China's entire textile industry, however, remain high due to weak consumption, Zhang said.
While recent economic data coming out of China are upbeat, the world economy is currently deep in pandemic-induced recession.
"Considering the imminent new PTA plant [start-ups in China], the PTA market will remain bearish. Meanwhile, the second wave of the coronavirus pandemic will decrease clothes consumption further," he said.
Coronavirus infections globally stood at 38m on 14 October, latest data from the World Health Organization showed.
Europe is experiencing a second wave of infections, with France, Italy, the Netherlands, Northern Ireland and Spain implementing various strict measures; while infections in the US - the worst hit by the pandemic - also continued to spike.
In Asia, China has launched a massive drive to test all the 9m residents of Qingdao for coronavirus after a handful of cases were detected on 11 October.
In the butadiene (BD) market, most Chinese importers have built up inventories prior to the holidays, but demand remains firm for November shipments amid tight supply, lending support to regional prices.
On 9 October, spot BD prices stood at $875/tonne CFR NE Asia, up $40/tonne week on week, ICIS data showed.
Synthetic rubber such as styrene butadiene rubber (SBR) and polybutadiene rubber (PBR) are raw materials for the production of tyres for the automotive industry.
For methylene chloride, buyers in Asia have turned to holding back purchases following recent surge in spot prices, which tracked strong China gains.
Spot domestic methylene chloride prices in China spiked after the eight-day holiday due to firmer cost of feedstock chlorine. The country is a major exporter of the material in Asia.
The strong yuan against the US dollar is having a dampening effect on exports, which may have prompted the central bank to rein in the currency's appreciation via a policy tweak.
China's domestic petrochemical markets have been posting strong gains since trading resumed on 9 October, after an eight-day hiatus, on the back of restocking and tightened supply.
The Chinese markets were shut from 1-8 October for the Mid-Autumn and National Day holidays.
Local ethanolamine prices firmed to around Chinese yuan (CNY) 100-200/tonne, with buyers piling up stocks ahead of an impending turnaround at a major domestic facility.
In the benzene market, Chinese imports are expected to weaken with inventories are ports expected to fall throughout October, ICIS analyst Jenny Yi said.
On 9 October, benzene inventories in east China stood at 262,000 tonnes, down 3% from end-September, she said.
"We expect the benzene market will enter a destocking period since October due to the reduced arrivals of import cargoes," Yi added.
Focus article by Nurluqman Suratman
Additional reporting by Trixie Yap, Samuel Wong, Judith Wang, Helen Yan, Kite Chong and Koh Yuanlin
($1 = CNY6.72)
Follow us on twitter @petrotahlil
Source : ICIS
END