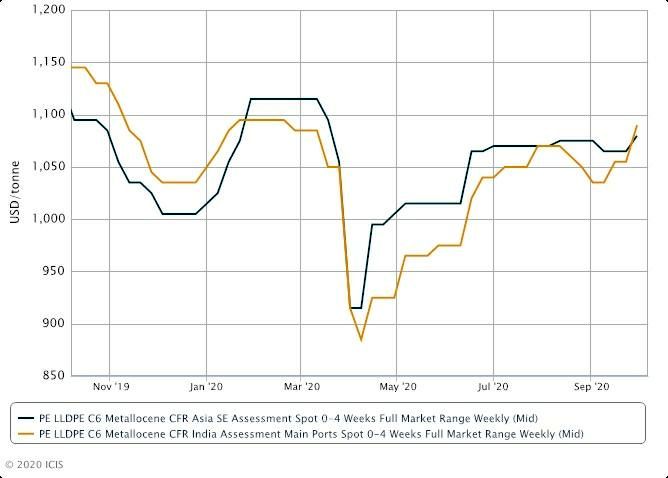 Petrotahlil - Supply of metallocene linear low density polyethylene (MLLDPE) in Asia is likely to stay constrained in the near term, amid various regional outages and reduced US imports.
Many international suppliers have already wrapped up business with Chinese buyers before the week-long Mid-Autumn and National Day holiday in the country.
Offers for October shipment cargoes to the rest of Asia remain firm, as suppliers sought higher asking levels amid the lack of inventory pressures.
Non-dutiable Singapore origin C6 (hexene-based) MLLDPE cargoes were heard offered at $1,150/tonne CFR (cost & freight) southeast (SE) Asia in the week. Offers to India were at $1,120/tonne CIF (cost, insurance and freight) India Main Ports.
Several plants in southeast Asia were under maintenance, with limited October shipment volumes available for allocation.
Meanwhile, availability of US-origin materials has also grown tighter over the past month.
The effects of previous shutdowns caused by Hurricane Laura on supply were not immediately felt in Asia, given that several US producers had ready stocks available for allocation at storage hubs in the region.
However, stock levels at these hubs and warehouses have gradually dropped amid reduced fresh replenishments from production sources in the US.
Despite the snug supply, buyers were not in a hurry to commit to spot purchases.
Some buyers in southeast Asia were holding onto ample MLLDPE inventory and opted instead to skip this month's volumes.
"Given the high offer levels, we are focusing on digesting on-hand stocks first before committing to any fresh purchases," a converter based in southeast Asia said.
Market players in India were optimistic that demand is likely to stay healthy in October, with a further uptick anticipated in the run-up to the festive season.
However, many conceded that this year is likely to see a more muted seasonal demand upswing given prevailing pandemic-related concerns.
Follow us on twitter@petrotahlil
Source : ICIS
END