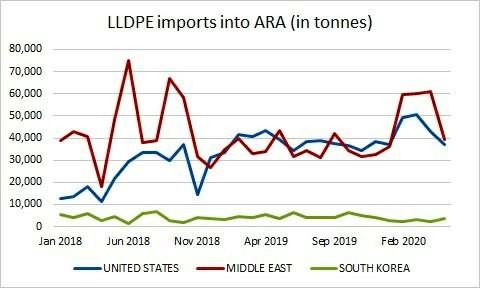 Petrotahlil --European polyethylene (PE) prices are flat, if not slightly down in some cases, but prices on a free-on-board (FOB) basis in the US are soaring, standing sometimes higher than delivered prices in Europe.
US prices have been rising for several months now and sellers are shying away from low-priced Europe to sell to Latin America, where netbacks are better.
Offers of $1,000/tonne FOB US Gulf were heard for C4 (butene based) linear low density polyethylene (LLDPE), a number that would mean delivered prices, duties included, in Europe of €950/tonne.
Current levels are easily €100/tonne below this.
The situation is particularly valid for C4 LLDPE, as most of it used in Europe is imported.
The Middle East was the number one importer but the US has been gaining ground in the past couple of years as new capacities have come on stream.
High density polyethylene (HDPE) – also a net imported product into Europe, but not to the same extent as C4 LLDPE – has also been increasing in imports from the US but there is also a good deal of HDPE production in Europe, unlike C4 LLDPE.
One trader said it was beginning to export volumes from Europe to Latin America, as demand and netbacks were better.
Some sources see the possibility of a sharp tightening of C4 LLDPE in Europe if the situation continues.
September demand has been disappointing for many sellers in Europe, hence the lacklustre pricing situation, and the mood is affected by increasing coronavirus numbers, making demand for the fourth quarter hard to gauge.
PE is the most widely-used plastic in the world, primarily found in packaging including plastic bags, plastic films and geomembranes.
Follow us on twitter @petrotahlil
Source : ICIS
END