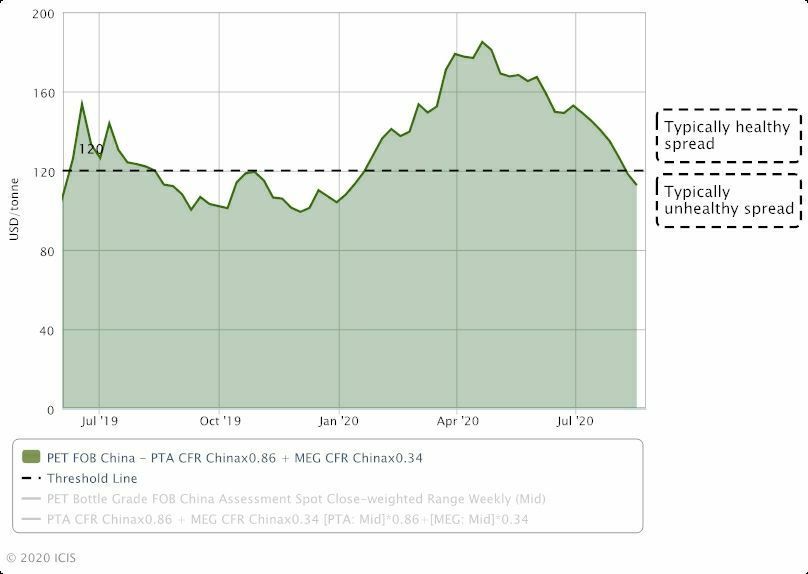 Petrotahlil -Chinese polyethylene terephthalate (PET) producers are facing increasing challenge for sales with little hope for an improvement anytime soon.
The ocean freight cost for China to Latin America region was understood to have increased significantly in the previous week as vessels on the route had been reduced. Hence there is less container space availability.
"The freight cost increase is by more than $1,000/20' FCL (full container load)," a Chinese producer said in mandarin.
This effectively increased the landed cost of Chinese PET cargo to Latin America, and Chinese PET has lost its price competitiveness against its Asian competitors to that region.
Any increase in freight cost to Latin America from non-China origins was not heard to be of a big magnitude, if any.
Earlier in August, India imposed preliminary anti-dumping duty (ADD) on PET imports from China.
Chinese PET to India trade peaked in between March-August 2019, with India import figures hitting over 12,000 tonnes/month on average during this period.
Available India's import figures for 2020 show import cargoes from China reduced to around 4,500 tonnes/month on average for January to April.
The hefty preliminary ADD for most Chinese PET producers will likely push these import figures down further and Chinese producers will have to seek sales opportunities elsewhere.
A couple of Taiwanese producers have seen more enquiries from India in recent weeks, following the announcement of the preliminary ADD on Chinese PET to India.
The pandemic that has resulted in reduced tourism and weakened economy, taking a toll on overall PET demand this year.
There was panic buying during the initial outbreak period but that demand boost subsequently dampened due to the longer-term impact of weakened economy and uncertainty of the evolving market situation amid the pandemic and its fall out.
Major buyers and producers in the PET market had increased the portion of pre-buying and pre-selling, hence many sellers, including the Chinese producers, have been finding it more taxing for spot sales, especially with the market uncertainty caused by pandemic.
Chinese producers have seen robust domestic sales earlier in the year that has been supporting good sales to output ratio and relatively high operating rates.
As the seasonal peak summer demand in the domestic market passes, there is uncertainty on how the domestic demand will hold up.
There is market talk that Jiangyin Chengxing Industrial Group will be having certain financial support and plans to restart its PET plant in end-August, however, this could not be confirmed with the company.
The company has two idled lines of PET, each of 600,000 tonnes/year capacity.
Restart of even one of the lines may weigh down on sentiments and sales burden on Chinese producers.
The many challenges for PET spot sales have resulted in narrow PET production margins.
There is typically a higher concentration of plant maintenance and production cut in the fourth quarter (Q4) based on previous years.
This year will likely see the same, with four Asian producers already having plan for plant maintenance in Q4 with details yet to be finalised.
More maintenance plans are expected. This will help to lighten the sales burden on Chinese producers.
There are also a number of European PET plants with maintenance plan in October-November that may mean Chinese producers could have a better chance to export to European markets, though again it will not be an easy task as Chinese producers will still have to compete with producers from other countries, some with duty advantage.
Follow us on twitter @petrotahlil
Source : ICIS
END