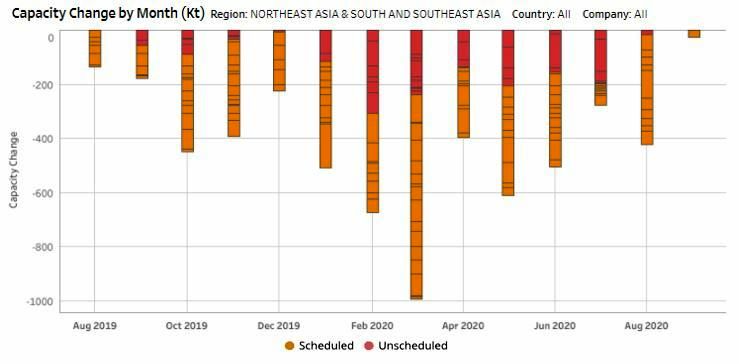 Petrotahlil - The supply overhang in the Asia purified terephthalic acid (PTA) market has eased in the near term but this is unlikely to last due to the impending start-up of new capacities in China.
China's surplus PTA supply had eased in August amid several turnaround plans at PTA facilities.
India's Materials Chemicals & Performance International (MCPI) shut its 470,000 tonne/year No 1 PTA unit, and Reliance Industries Limited (RIL) had shut its Hazira No 2 PTA unit.
Downstream polyester operating rates in the country continued to stay low at around 30-40%, amid growing concerns of the spread of coronavirus pandemic, and the lack of textile demand.
In South Korea, PTA producers were operating at slightly reduced rates of around 80%, while there is a slew of scheduled turnarounds at PTA units in Taiwan.
All PTA units in Indonesia are currently in operation after several units were shut in March to July amid the spread of coronavirus within the country.
As shown in the chart above, PTA production loss in August was slightly higher compared to the previous month, but the shutdown schedule going forward is limited.
Aside from the lack of scheduled shutdowns at PTA facilities going forward, there is an onslaught of new PTA facilities slated for startup from the fourth quarter this year.
A total of around 7.1m tonne/year of new PTA capacities are scheduled for startup, which includes Jiaxing Xinfengming Group's 2.2m tonne/year unit, Lianyungang Honggang Petorchemical's 2.4m tonne/year unit and Quanzhou Fujian Billion's 2.5m tonne/year plant.
The global textile and clothing industry has shifted into a slowdown cycle during the past decade, with the coronavirus pandemic causing a crash this year.
A bearish downstream demand outlook is likely to continue to weigh down on the PTA industry, with supply outstripping demand.
Spending power from consumers for textile and garments has definitely declined, while priorities are likely to have been shifted, with majority expected to focus more on savings, on the back of a weak global macroeconomic environment.
Follow us on twitter @petrotahlil
Source : ICIS
END