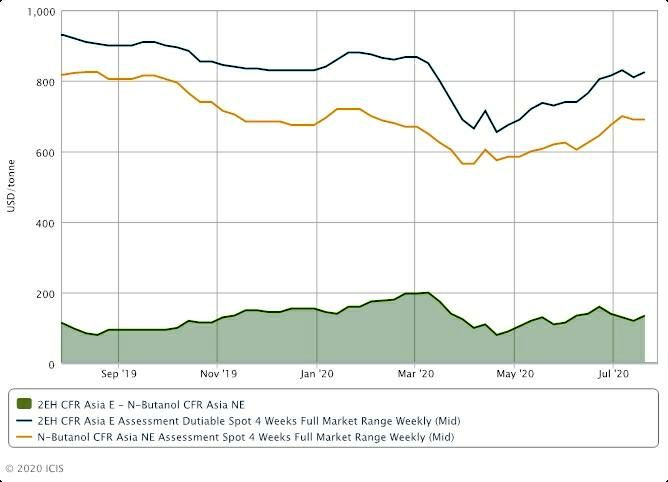 Petrotahlil - Demand for n-butanol (NBA) in Asia is recovering gradually from a trough in the first quarter at the height of the coronavirus pandemic. But a rebound in its prices is unlikely to catch up with the gains of fellow oxo-alcohol 2-ethylhexanol (2-EH) anytime soon.
2-EH-NBA price gap wider than usual at $135/tonne
NBA demand to remain muted
2-EH driven by downstream plasticizers demand
The coronavirus brought the automotive and construction sectors – two of NBA's key industries – to a near standstill in Asia.
Used in applications such as auto plastics as well as paints and coatings, NBA has struggled to find its footing as large swaths of the region see sluggish economic activity amid various stages of recovery from the coronavirus.
While the automotive sector in Asia is performing better than its counterparts in Europe and North America, the worst is far from over.
At the same time, ongoing tensions between India and China over a border dispute is expected to take a further toll on demand as India relies heavily on the latter for its auto component imports.
Meanwhile, the Asian construction remains under stress, with the speed and degree of recovery in each country largely dependent on government stimulus packages, credit lines and the timely availability of skilled construction workers.
On the other hand, demand for 2-EH had seen a strong rebound on the back downstream demand for plasticizers.
The uptick has been largely driven by the popularity of non-phthalate plasticizer dioctyl terephthalate (DOTP) for use in the medical sector, such as in the production of medical gloves, which has surged amid concerns over the coronavirus.
To capitalize on this demand, some manufacturers had switched to producing 2-EH instead of NBA at their units.
In the week ended 23 July, China's 2-EH plants posted an average run rate at 83%, according to ICIS data. In contrast, the latest data showed that China's NBA plants posted an average run rate at 65%.
One northeast Asian producer noted the price gap between NBA and 2-EH was now wider than usual. It added that margins for NBA were poor as prices of feedstock propylene (C3) remained relatively firm.
The mid-point of NBA prices in northeast Asia was assessed at $690/tonne in the week ended 23 July, while the mid-point of 2-EH prices in east Asia was at $825/tonne in the same period.
In Asia, prices of NBA have traditionally been around $100/tonne lower than that of 2-EH.
One buyer said while NBA demand was generally stable, the recovery downstream remained subdued.
Another producer said demand was gradually picking up but noted weakness particularly in the paints and coatings industry.
In the near- to mid-term, however, a protracted recovery from the coronavirus is expected to continue to weigh heavily on NBA demand.
NBA is a feedstock for butyl acrylate and methacrylate, butanol-based glycol ethers, butyl acetate (butac), and some plasticizers. It is also used as a solvent.
Follow us on twitter @petrotahlil
Source : ICIS
END