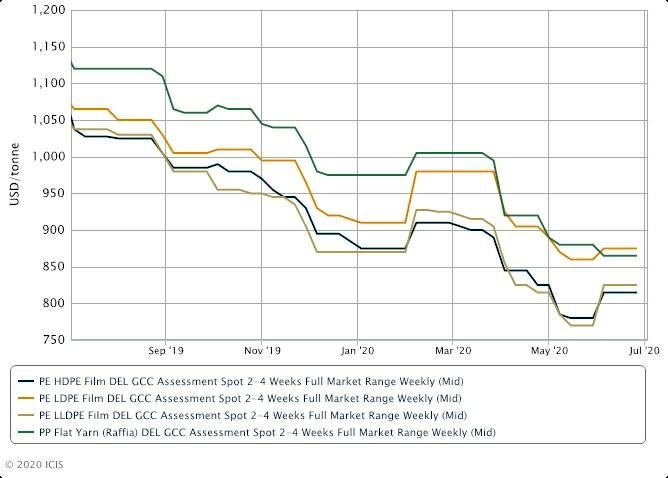 Petrotahlil - Polyolefin offers for July-lifting cargoes in the Gulf Cooperation Council (GCC) region have increased on the back of tight supply and recent uptrend in Asian markets.
Offers for July lots of both polyethylene (PE) and polypropylene (PP) spiked compared from June deals amid limited supply in the Middle East.
High density PE (HDPE) film offers rose to $860-930/tonne DEL (delivered) GCC, up by $70-90/tonne from June trade levels.
Strong demand for HDPE pipe demand was also curbing film availability.
Offers for low density PE (LDPE) film rose by $40-50/tonne to $890-950/tonne DEL GCC; while those for linear low density PE (LLDPE) film increased by $20-50/tonne to $840-880/tonne DEL GCC.
As the offers mostly emerged mid-week, the bulk of discussions were still underway with business poised to spill over in the following week.
PP raffia/injection offers for July shipments also rose by $20-40/tonne to $870-920/tonne DEL GCC.
PE availability among producers in the GCC was curtailed by higher allocations in recent weeks to China and southeast Asia, where demand is stronger than in the Middle East.
Supply shortages stemmed from production and logistical challenges at a few facilities in Saudi Arabia amid rising coronavirus cases in the country, industry sources said.
For PP, supply was also limited by a prolonged outage at one producer facility, and a few other sellers held restricted volumes amid greater allocations previously sold to Asia.
Overall demand in the region was mixed, with uptake in the food, medical and hygiene sectors robust; while staying weak in other downstream segments.
Demand from the processed food packaging segment was higher than pre-pandemic levels, said a source from a major regional PP processor.
Improved demand also emerged from downstream fast moving consumer goods (FMCG) applications and demand for products such as disposable protective PE sheets and PP masks.
Demand for PE and PP moulded products was however slow, as purchases of non-essential goods have yet to recover despite the complete lifting of lockdown restrictions in late June in the GCC.
Sellers are bullish for July following recent surge in Asian import values, while buyers in the region remain cautious amid mixed demand trends and were opting to undertake need-based trades for the time being.
Source : ICIS
END