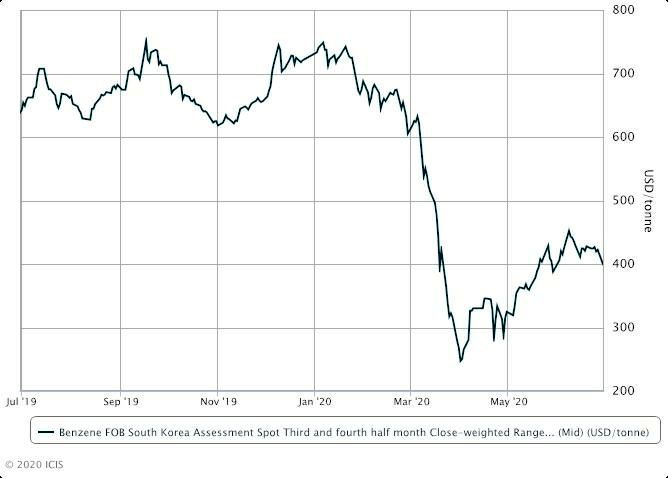 Petrotahlil - Asia benzene market slumped in the first half of the week with concerns of a long supply weighing on sentiment.
Inventories in China were expected to remain elevated while demand appeared to be slowing, with users having accumulated sufficient stocks to meet immediate requirements.
Shore tanks inventories were more than 230,000 tonnes in eastern China in the second half of June, ICIS data showed.
Declining prices in the domestic market also reduced Chinese appetite for imports, further fueling speculation that the ample stocks will continue to build, especially with deep-sea parcels streaming into the region.
Spot prices tumbled below $400/tonne FOB (free on board) Korea but staged a rally in the second half of the week to recapture the $400/tonne FOB Korea market in mid week, following a rebound in crude oil futures.
"Crude oil market is providing support for benzene, but overall trade is slow," said a trader in Singapore.
Benzene is used to produce a number of intermediates that are used to create polymers, solvents and detergents.
While some participants anticipate a slower pace of gains in inventories in China in August, as arrivals of deep-sea cargoes are expected to taper off, supply could still remain ample.
Several domestic plants are expected to debut in the third quarter, off-setting the supply reduction from deep-sea lots.
"Around 500-600,000 tonnes of benzene will be added to the system if these plants come onstream," said Jenny Yi, senior analyst for Asia aromatics at ICIS Shanghai.
Demand strength remains the other part of the equation.
Without firmer buying momentum, supply reduction alone might not be sufficient to provide ballast for the market.
"Buying impetus has slowed in recent weeks as users have already made purchases," said a trader in NE Asia.
Further pick up of demand in China also hinges on the other parts of the world opening up and exiting lockdowns, and kick starting supply chains in earnest.
Some players believed that economic activity would only show some improvement from the fourth quarter.
Source : ICIS
END