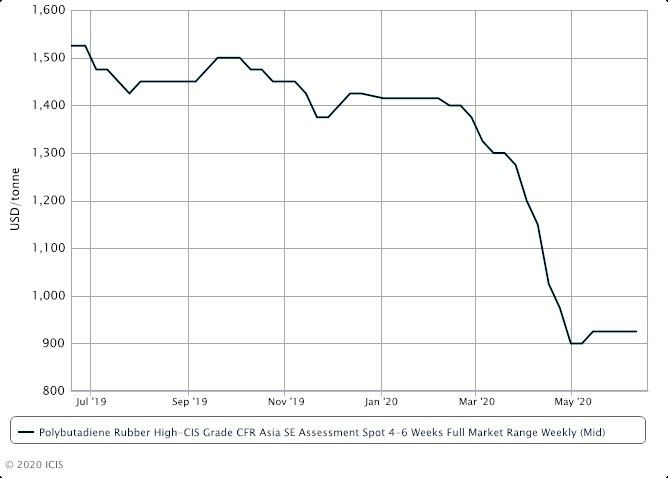 Petrotahlil - Demand for polybutadiene rubber (PBR) is expected to remain sluggish in the second half of this year, due to the devastating impact of the coronavirus pandemic on the global economy.
"It is likely to take some time for the automotive sector to recover as the global economy has been badly hit by the pandemic, and business and consumer confidence may take some time to recover," a trader said.
PBR is used mainly in the production of tyres for commercial vehicles by the automotive industry.
Although major automotive makers have largely resumed production following the easing in lockdown restrictions, the automotive and tyre factories are mostly running at below 50% capacity due to manpower constraints and shrinking demand amid a contracting global economy.
The Asian Development Bank on Thursday cut its growth forecast for developing economies in Asia to 0.1%, down from its 2.2% projection made in April, hit by weakened external demand amid the coronavirus pandemic.
The 2020 forecast would be the slowest growth for the region since 1961, while a 6.2% growth is still projected for 2021, the multilateral institution said in a statement.
According to the OECD, global economic output will fall 7.6% in 2020 with soaring unemployment if a second coronavirus outbreak takes hold by the end of the year.
If a new wave of infections is avoided, economic activity is expected to drop 6%, the organisation said in its latest Economic Outlook.
"Demand is slowly coming back now and we hope that it can pick up later in the second half of the year, provided there is no second wave of infections," a regional PBR maker said.
On 11 June high-cis PBR prices were flat at $900-950/tonne CFR (cost and freight) southeast (SE) Asia, ICS data showed.
ICIS
END