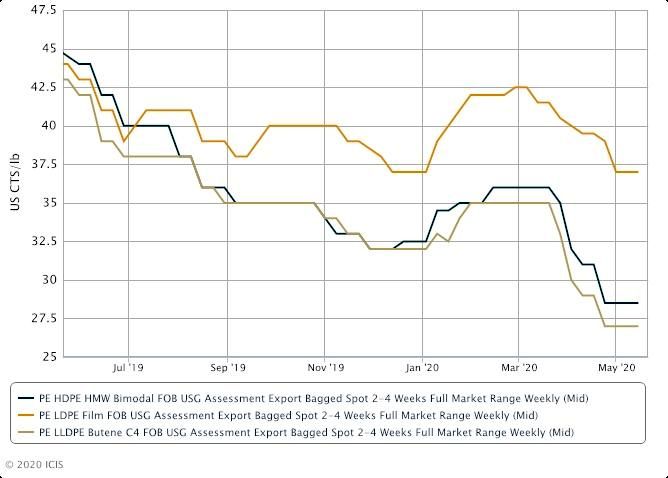 Petrotahlil --Sentiment is showing signs of shifting in the US polyethylene (PE) market. Export offers are starting to trend higher while price increase initiatives have been announced in the domestic market.
DEMAND BETTER THAN EXPECTED
The PE industry reacted to poor first quarter earnings by implementing operating rate reductions and even idling plants in some cases.
PE demand has not fallen as sharply as some other plastics as much of PE demand comes from consumer non-durables such as food packaging, meaning that a number of major key PE applications have seen steady demand during the coronavirus outbreak.
Overall demand has still fallen with the generally bearish macroeconomic climate, but it would seem that a number of producers achieved better sales than expected during the month of May.
EXPORT VOLUMES
A significant amount of export material has been sold to China in recent weeks as the availability of tariff exemptions has tempted Chinese buyers to pick up US product.
China experienced the coronavirus outbreak earlier than other countries and is now further along in the reopening process compared to most other areas of the world.
Sales to southeast Asia are starting to show some improvement as countries in this region are beginning to ease lockdown measures.
Demand from Latin America and Africa is lagging as these regions were among the last to be impacted by the coronavirus and several key countries in South America are extending containment measures over the coming months.
FEEDSTOCKS TRENDING HIGHER
Feedstock costs have also trended higher, putting some upward pressure on prices.
Ethane prices have more than doubled since mid-April and have risen to around the highest level in a year.
Most US ethane is produced as an associated gas in oil and gas wells and production has fallen off as oil and gas drilling activity has fallen in response to a sharp decline in crude oil prices.
The increase in ethane costs has also resulted in some increases in spot ethylene prices, which have risen close to their pre-lockdown levels.
SUPPLY LENGTH REMAINS IN PLACE
Although there is some tightness in currently available spot cargoes, the overall market remains long. PE supply had been long prior to the current crisis, which is likely to result in demand destruction both domestically and globally for 2020.
Additionally, further supply additions are expected both later this year and in the current years, which could leave the market oversupplied if new capacity comes onto the market faster than increases in incremental demand.
PE is the most widely used plastic in the world, primarily found in packaging including plastic bags, plastic films and geomembranes.
Major US producers of PE include Chevron Phillips Chemical (CP Chem), DowDuPont, LyondellBasell, ExxonMobil, Formosa, INEOS, Total Petrochemicals and Westlake.
ICIS
END