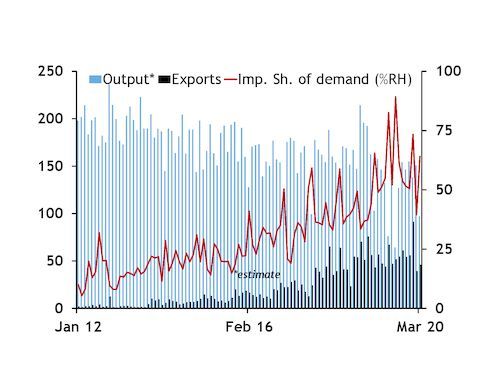 Petrotahlil -
French biodiesel output fell sharply in March as demand fell in the face of Covid-19 movement restrictions.
Apparent output — calculated by Argus using import, export and demand data — was around 100,000t, down by 38pc on the year.
French diesel demand fell by 26pc year on year to 660,000 b/d in March, after the government enacted movement restrictions in the middle of the month. This hit to blending demand pushed dominant of rapeseed biodiesel (RME) producer Groupe Avril to temporarily close three plants.
French production was already under pressure from rising imports. Avril has yet to reply to questions over the timeframe of any restart.
Shipping documents show minimal import, export or transit of biodiesel in France through April into May.
Imports were a little under 105,000t in March according to customs data, down by 2pc on the year. Exports were 45,000t, down by close to 20pc on the year.
French biodiesel demand is underpinned by a blend rate of 8pc. Consumption was 165,000t in March, down by 25pc year on year, in line with the decline in diesel demand.
END