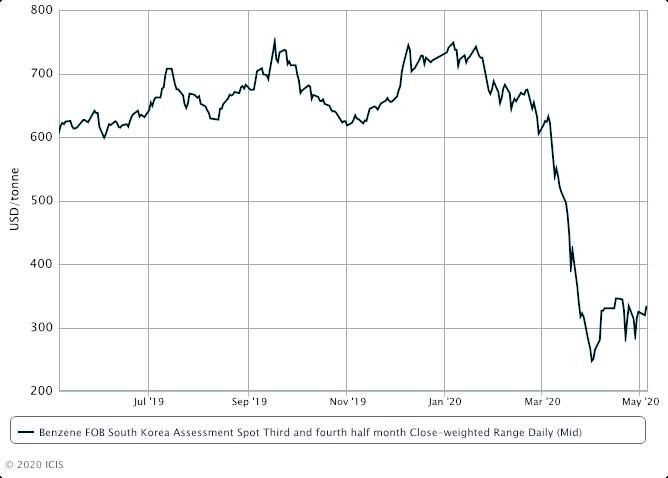 Petrotahlil --Asia's benzene market remained on an uptrend on buoyant crude oil markets, and is likely to see demand strengthen further in the near term.
With the West Texas Intermediates (WTI) index surging to above $24/bbl, sentiment was bullish among benzene players.
Spot prices rose towards $350/tonne FOB (free on board) Korea, from $325/tonne FOB Korea on the last day of April.
"The market is moving higher, following crude oil," said a broker in South Korea.
Higher numbers over in the US and Europe markets similarly gave the Asian sector a boost.
Benzene is used to produce a number of intermediates that are used to create polymers, solvents and detergents.
With China emerging from the lockdown after successfully containing the coronavirus, and some economies in the region easing restrictions, demand for benzene is expected to improve over time as supply chains start to function.
Buying momentum in China for benzene imports has been evident over the past month with sellers mostly moving cargoes there.
"Chinese demand has been quite firm in recent weeks as downstream sectors began to ramp up output," said a supplier in Thailand.
The plan to ease lockdowns in Europe and the US further fanned optimism of firmer demand for petrochemicals, as demand for finished products are expected to pick up again.
Nonetheless, some players remained cautious for the near term, given that the reopening of economies remained mired in uncertainty with concerns of a resurgence of infections.
Participants continued to watch the crude oil markets for direction in the benzene sector.
Follow us on twitter @petrotahlil
ICIS
END