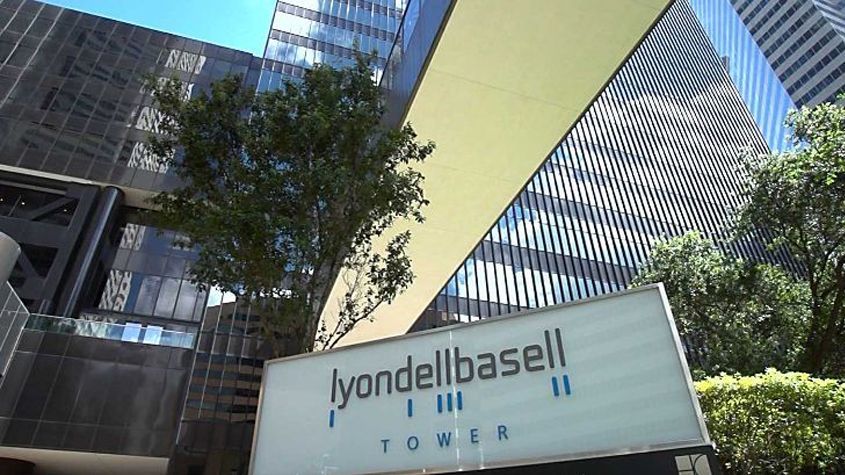 HIGHLIGHTS
Petrochemical producers reveal pandemic fallout in Q1 results
CP Chem defers final go-ahead decision on new projects with Qatar
Petrotahlil - Global petrochemical producer LyondellBasell has reduced rates across its system to accommodate lower demand wrought by shutdowns around the globe to stem the spread of the coronavirus pandemic, CEO Bob Patel said Friday.
LyondellBasell's overall global petrochemical and refining assets were expected to operate at 60% to 80% of nameplate capacity through the second quarter, Patel said during the company's first-quarter earnings call. European crackers were seen running at 80% to 85%, while US crackers were expected to run at about 75%, he said.
"Everything was fine until mid-March when durable demand stopped as social distancing mandates were enforced," Rob Stier, senior manager of petrochemical analytics at S&P Global Platts, said after the call.
LyondellBasell was among several global petrochemical producers to announce quarterly results on Friday. Others included ExxonMobil, Phillips 66 and Eastman Chemical. As expected, efforts to adapt operations and cut costs as the pandemic crushed oil demand and bruised the energy complex were common themes for those four and others who already have unveiled first-quarter results.
"Q1 was normal with increasing consumer packaging demand," Stier said. "However, Q2 will not be normal and economic run cuts are already being announced as expected to manage inventories."
Petrochemical producers have seen strong demand for some plastics used for food packaging and medical devices, such as melt-blown fabric medical face masks. But automotive plant shutdowns and sharp slowdowns in construction crushed for plastics used in vehicles and homebuilding or butadiene to make rubber.
Phillips 66 CEO Greg Garland said the Chevron Phillips Chemical, the joint venture of Phillips 66 and Chevron, aimed to run its plants at 90% capacity through the second quarter. However, he also said CP Chem and Qatar Petroleum had delayed a final investment decision on a new petrochemical facilities, including crackers and derivative plants, on the US Gulf Coast and in Qatar, to 2021 from this year given pandemic uncertainties.
ExxonMobil CEO Darren Woods said the company's petrochemical complex in Baton Rouge, Louisiana, had reconfigured operations to produce, blend, package and distribute medical-grade hand sanitizer and was designing new reusable face masks and face shields to combat the virus.
And Eastman CEO Mark Costa said the company was "adjusting our operations to the current demand environment" reducing spending and deferring some turnarounds on expectations of volumes falling 15% to 20% in the second quarter.
"There's just a phenomenal amount of uncertainty when we don't even know when the US and Europe are going to restart yet," Costa said. "We can get people back to work in a lot of companies, but it's really a question of what consumers are going to do. Are they going to go back to restaurants, back to their normal life activities, travel, shop in retail stores, buy cars?"
Those behaviors will dictate when auto and tire plants start up and how housing markets will play out, he said.
PACKAGING, MEDICAL DEMAND UP, AUTOMOTIVE DEMAND DOWN
Patel said consumer-driven demand for resins used in packaging and healthcare, such as food packaging and test kits, supported relatively stable polyethylene margins as virus responses spread worldwide. LyondellBasell ramped up its new 500,000 mt/year polyethylene plant in La Porte, Texas, in the first quarter.
The need for plastic packaging switched to smaller sizes in grocery stores rather than bulk as restaurants shut down, leaving consumers to buy groceries and takeout, Patel said. Demand for frozen, dairy and packaged food has risen 30%, he added.
But demand for oxyfuels and intermediates plunged as shutdowns sharply reduced driving, reducing the need for fuel additives and plastics used in vehicle manufacturing.
That leaves LyondellBasell wary of taking too much advantage of naphtha, the chief feedstock for crackers in Asia and Europe, which has become much more competitive with ethane as a cracker feedstock. Naphtha is priced off of oil, so the oil price plunge brought naphtha down with it.
US and Middle East crackers favor ethane, a natural gas liquid priced off of natural gas. As oil and gas production has declined amid much weaker demand and shrinking storage availability, less ethane availability has boosted prices, leaving it less competitive with naphtha.
LyondellBasell's cracker network has flexibility to increase naphtha and liquefied petroleum gas runs while reducing ethane feeds. But while ethane yields mostly ethylene, used to make resins that are used to manufacture the most-used plastics in the world, naphtha yields less ethylene per gallon and more coproducts that are low in demand in the coronavirus environment. One of those coproducts is butadiene, a building block for tires.
"We'll crack liquids up to a point where we can move the butadiene and I think that's already globally been restricting the amount of naphtha that's being cracked," Patel said.
Even though some pandemic-related shutdowns have begun to ease, leading to more driving and tire replacement, Patel sees potential butadiene oversupply from naphtha cracking "to be a constraint through most of this year."
As 350,000 b/d of US ethane production has been rejected before oil and gas producers started pulling back on output, he said. The amount rejected would be the first to decrease with output cuts. If supply were still seen "snug" with rising prices, crackers with flexibility would switch to other feedstocks, such as liquids and LPGs, Patel said.
"Beyond that, some of the exports could even get shut off for ethane," he said. "So it seems to me that what we're really trying to think through is could we have another spike as opposed to a sustained period of high ethane prices. In the end, we continue to believe that there's an abundance of ethane available in the US and higher prices will just attract more investment and more supply of ethane over the long term."
Follow us on twitter@petrotahlil
END