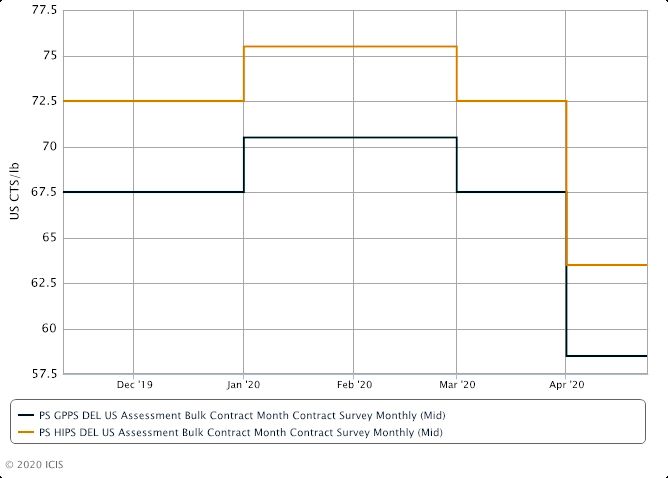 Petrotahlil --US polystyrene (PS) contracts for April were assessed 9 cents/lb ($198/tonne) lower on plunging upstream costs and weaker demand.
Benzene and styrene feedstock costs are trending lower on bearish macroeconomic conditions and plunging crude oil prices.
Oil prices are likely to be challenged over the coming months as storage limits are being tested amid a sharp drop in demand for transportation fuels.
PS demand has declined overall, although some sectors have performed well.
Food packaging demand has been strong while demand for electronics and appliances has weakened. Demand for disposable cutlery has also fallen as coronavirus containment measures have limited outdoor dining opportunities.
ICIS assessed April contracts for general purpose polystyrene (GPPS) at 56-61 cents/lb delivered in bulk US while contracts for high impact polystyrene (HIPS) were assessed at 61-66 cents/lb with the same terms.
General purpose PS is used in food packaging, disposable utensils, cutleries and various other consumer items. High impact PS is used in consumer electronics and toys while extruded PS is used in the construction industry as insulation.
Major US producers of PS include INEOS Styrolution, Americas Styrenics, Total, Trinseo and SABIC Innovative Plastics.
Follow us on twitter @petrotahlil
ICIS
END