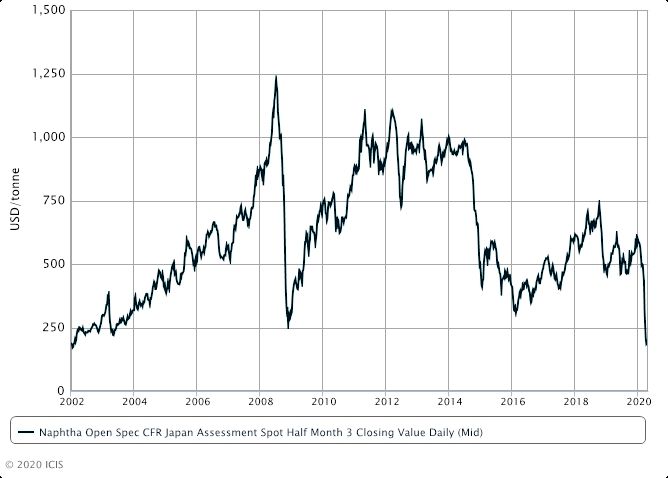 Petrotahlil - Asia naphtha prices rose on the back of a jump in global crude oil futures, lifting sentiment as the market flipped to a slight backwardation where prompt-month prices are higher than forward months.
At early hours session in Asia, open-specification naphtha prices averaged at $232.00/tonne CFR (cost and freight) Japan basis for first-half June delivery, a $51/tonne spike from the preceding day's Asia close, ICIS data shows.
Crude oil futures rebounded amid tentative talk of additional production cuts by OPEC producers and a rally in US equities. ICE Brent June crude oil futures were at $21.09/bbl at midday session in Asia.
Asia naphtha's crack spread edged up to $51.10/tonne at the close of trade on 22 April, staying in positive zone for the second straight session. The crack spread was in negative territory as deep as $64.40/tonne on 9 April.
The forward intermonth time spread for 1H June and 2H June open-specification naphtha contracts moved into a slight $1.00/tonne backwardation, contrasting with the $10.50/tonne contango just at the start of the week beginning 21 April, according to ICIS data.
The jolt in lifting market sentiment was in part attributed to constraints in vessel space availability at this time, with large tankers or VLCCs mostly being utilised for floating oil storage amid a supply glut.
Consequently, freight costs have surged, notably for carrying light distillates such as gasoline and naphtha.
Freight rates on 23 April for shipping clean products on long-range 1 vessels on the Middle East-Japan route averaged at $119.78/tonne, higher than the previous day's $98.13/tonne, and nearly twice the freight at $62/tonne levels in mid-April, according to market sources.
On the flip side, naphtha demand for petrochemical production remained cautious, if not soft amid lowered cracker run-rates or maintenance.
Taiwan's Formosa Petrochemical (FPCC), a key importer withdrew its spot buy-tender for second-half May delivery because of ample inventories of the petrochemical feedstock.
Follow us on twitter @petrotahlil
ICIS
END