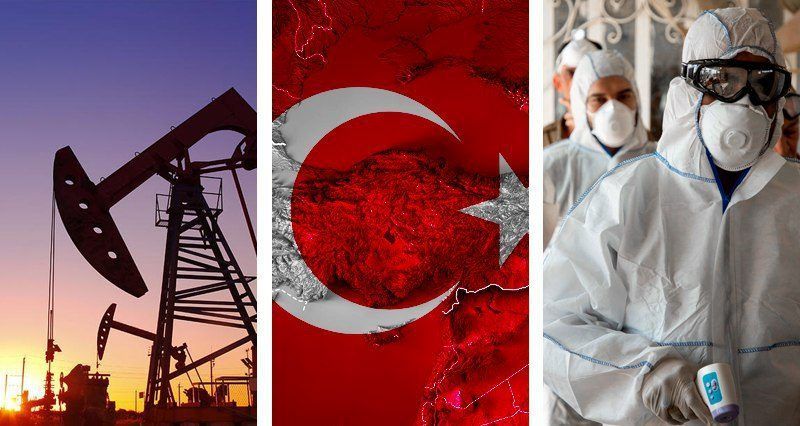 Petrotahlil - The Turkish scrap import price was flat today as balanced supply and demand fundamentals limited the immediate impact of the dramatic fall in oil futures yesterday.
The Argus daily HMS 1/2 80:20 cfr Turkey and HMS 1/2 75:25 fob Rotterdam steel scrap assessments were unchanged at $256.50/t and $227.10/t, respectively.
The collapse of the WTI Nymex crude futures price to negative territory yesterday sent ripple effects through commodities markets today, and raised the spectre of another sharp drop in prices across the ferrous scrap complex similar to that which occurred throughout March.
Saudi Arabia and Russia's initiation of an oil price war early last month was the trigger for a dramatic drop in ferrous scrap demand from Turkish mills, and a subsequent price decline that intensified throughout March as Covid-19 spread globally and widespread restriction measures were implemented.
The Argus HMS 1/2 80:20 cfr Turkey assessment fell by $70/t across 16 days from 8 March.
But many Turkish steelmakers and scrap sellers said today that the restructuring of demand and supply across the electric arc furnace ferrous chain since the start of April will prevent yesterday's oil price fall from precipitating a similar renewed drop in scrap prices.
Turkish steelmakers are not inclined to seek a sharp drop in imported scrap prices in the near term. They are likely to now mostly hold back from new purchases ahead of and during a four-day coronavirus lockdown across 31 Turkish cities that takes effect from 23 April.
Three mills indicated today that they will look to drop scrap bid levels when they return to the market, but two confirmed that they have no interest in letting prices fall freely, as happened in March. Steelmakers concluded few sales at the bottom of the market in March, when rebar fell to $375-390/t fob Turkey, so they see little point in pushing the market down aggressively again to stimulate demand.
Some mills are now focused on June shipments only. At least three mills' most recent deep-sea scrap purchases are understood to be only for stock rather than for back-to-back business.
But fundamentally, the almost total drop-off in scrap flows from key exporting regions that lifted scrap prices back above $250/t will continue to provide support on the supply side in the near term.
The Turkish scrap price falling to $205-210/t cfr in March pushed exporters' dockside bids down to a level that caused flows that were already under pressure from lockdown measures to virtually halt.
This was most evident in continental Europe, where exporters had to swiftly abandon bids at €145-155/t at the end of March when it became clear that there was no availability at this level. The Argus weekly assessment for HMS 1/2 delivered to Amsterdam Rotterdam Antwerp Ghent (ARAG) rose to €195-205/t today, with at least one exporter heard to have paid at the high end of this range.
But European exporters became increasingly cautious yesterday and are now reluctant to pay above their respective bid levels for material that is not needed immediately.
Deep-sea scrap exporters' overall ability to source May shipment cargoes is limited, with the suppliers that could sell for that period having mostly already concluded business.
The oil price crash is likely to dampen US domestic steel demand and weigh on May domestic scrap pricing, but many US suppliers had already factored in that several large US steel mills would make minimal scrap purchases for May delivery. Consequently, a weak US May domestic market may already be partially priced into the Turkish import price.
At least six US exporters sold cargoes to Turkey for May shipment, some parts of which appeared destined originally for the US domestic market. Four of the cargoes sold from the east and Gulf coasts contained HMS 1/2 90:10. Two US exporters said the sales were based on weak US domestic demand for May deliveries.
In the short-sea Turkish import market, the Argus daily A3 cif Marmara steel scrap and A3 Russia-Ukraine fob Black Sea steel scrap assessments were unchanged at $253/t and $230/t, respectively, today.
END