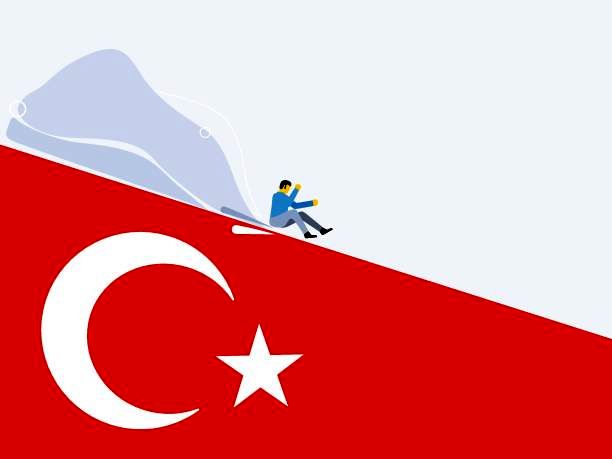 Petrotahlil - Turkey's lira fell on Tuesday, threatening to break through 6.8 per dollar, as authorities struggled to contain the financial and economic fallout of the coronavirus.
The lira declined to as low as 6.798 per dollar in morning trading in Istanbul. It later recovered slightly to trade down 0.2 percent at 6.78 against the U.S. currency.
On Sunday, Turkey's banking regulator slashed the amount of short-term derivative contracts that banks could trade offshore to a maximum of 1 percent of their equity from a previous 10 percent in order to bolster the lira. That sent offshore overnight interest rates tumbling, pulling the lira lower in trading on Monday.
The regulator's move came as President Recep Tayyip Erdoğan on Sunday rejected a resignation request by Interior Minister Süleyman Soylu over his handling of an abrupt weekend lockdown that left hundreds of thousands of people queuing at supermarkets and bakers on Friday night.
Infections from the coronavirus rose by 4,093 cases in a day to 61,049, Health Minister Fahrettin Koca said late on Monday. Deaths increased by 19 to 1,296, he said.
Investors are concerned that unorthodox economic policies by the government, which have resulted in losses of tens of billions of dollars in central bank foreign currency reserves, are leaving the lira exposed as businesses struggle with the financial impact of the COVID-19 outbreak. Several of Turkey's largest business associations last week called on the government to offer more assistance.
So far, the government has offered financial measures worth 100 billion liras ($15 billion), a package dwarfed by those announced by Europe's largest economies and several emerging markets. Erdoğan has ruled out seeking any financial assistance from the International Monetary Fund, saying on Monday the country "would not bow down" to an IMF programme.
Turkey's statistics institute has yet to publish leading economic indicators for March, which are expected to show a huge slump in activity. On Monday, it said industrial output surged by an annual 7.5 percent in February. Turkey reported its first case of the coronavirus on March 11.
The current account deficit widened to $1.23 billion in February from $117 million a year earlier, as imports outpaced exports, the central bank said.
END