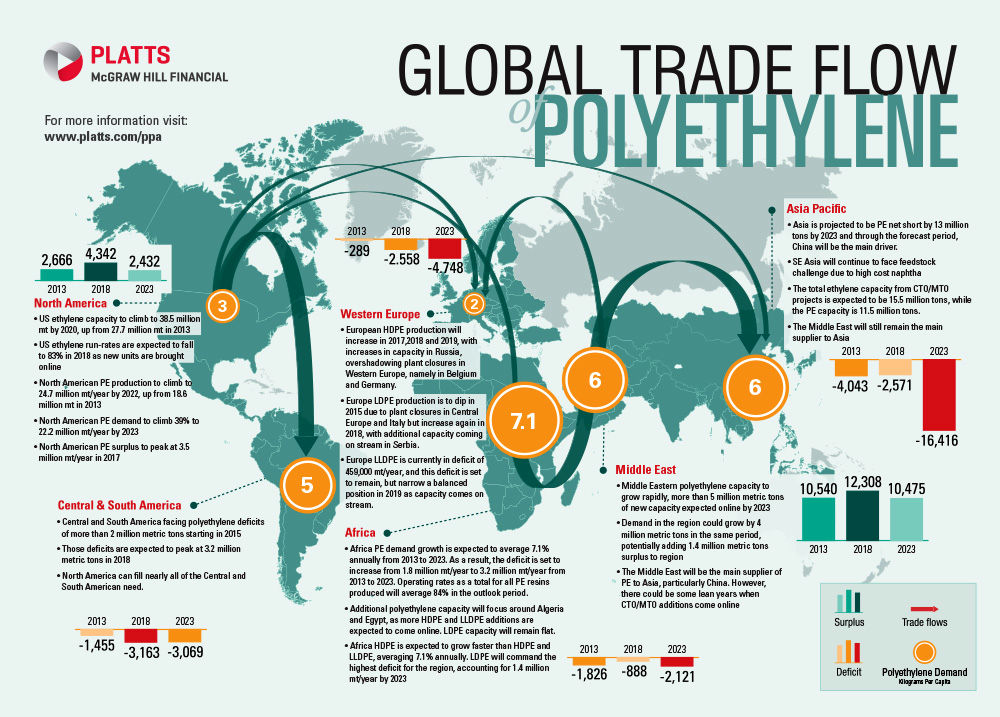 HIGHLIGHTS
European traders were looking to fill the void created by the slump in polyethylene demand by exporting cargoes to Asia, as supply from the Middle East was hit by coronavirus lockdowns, according to market sources.
European traders pointed to the lockdowns in Saudi Arabia, which has curtailed production at some facilities as well as port operations as an incentive to switch resin supply into Asia.
However, a trader pointed to the difficulty in making the transaction work in time, with limited container availability as well as a perceived doubling of freight between Europe and China since the start of the year.
With demand for some grades of PE weak, traders said that demand had fallen to such lows that they were now shunning spot trade all together. Sources pointed in particular to weak demand for rigid plastics, that primarily go into the construction and automotive sectors, where demand has been hard hit by the coronavirus lockdowns in Europe.
This contrasted with demand for flexible packaging going into the food, hygiene and pharmaceutical segments, where volumes were heard to be healthy in April, driven by good derivative demand as well as replenishing demand by converters.
If the export transaction could be met, then freight costs and making the logistic work could still be an issue. One trader said that forty foot container freight from European warehouses into the CFR China hub was pricing at Eur1,800, or equivalent to a Eur72/mt freight cost.
"This is double what it was at the beginning of the year," the trader said. "I don't have the confirmation yet [from the buyer]. Too early to say."
The trader also cited shipping problems.
"There are no containers," he said. "I'm trying to ship out 300 tons. I had a possibility to do it in mid April, If I don't catch it by the next opportunity I have it all closed."
The next opportunity to export may not arrive until May or June, when the containers grounded in Asia may next be available, he added.
Other market sources in some polyethylene segments reported a weak picture.
"I am at 20% of my normal month, but I am not surprised by this big decline because it was my expectation," a converter agent said. "I expected the first half of April would be the worst.
"People have enough material," he said. "They consume what they have and they purchase what they need. By the end of the month, if we see that the situation is improving then maybe we could see improved movement."
European traders were looking to Asia as an outlet despite prices there falling to a 12-year low, according to S&P Global Platts data, amid weak global demand. Applications for PE, particularly in film, were consumption led and were affected by weak economic growth in the region.
Most Asian market participants highlighted the sharp reduction in transport demand, along with weaker consumption of polymers in the Asian countries, outside of China. In India, price protection prevailed, with many customers expecting to receive a credit note at the end of the month.
SAUDI CHEMICAL, PLASTIC PRODUCTION ALSO HIT
The shutdown of Saudi Arabia's PetroRabigh petrochemical complex at Rabigh on the Red Sea coast is expected to last until mid-April.
PetroRabigh shut its 400,000 b/d refinery and petrochemical complex last week, with the scheduled maintenance expected to last for 45 days.
The whole petrochemical complex is shut, affecting production at its 700,000 t/yr polypropylene, 600,000 t/yr linear low-density polyethylene/high-density
polyethylene, 300,000 t/yr HDPE, 160,000 t/yr low-density polyethylene, 400,000 t/yr benzene and 1.3mn t/yr PX units.
PetroRabigh is a joint venture between state Saudi Aramco and Japanese trading house Sumitomo.
END