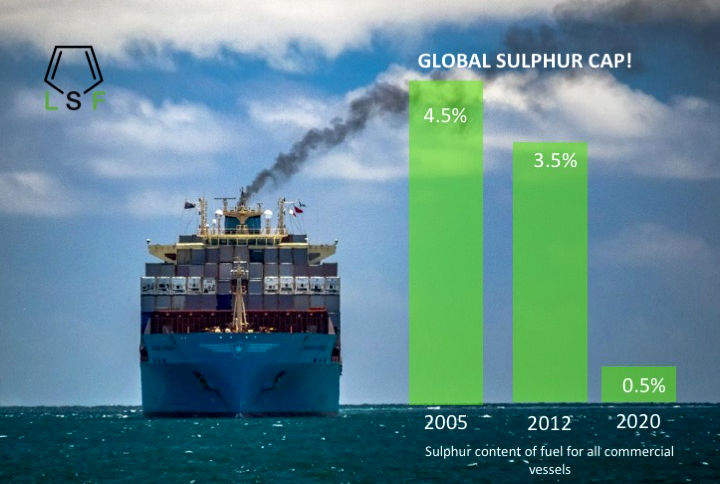 Petrotahlil - Lower demand and improved supply logistics for low-sulphur marine fuel have pushed its price premium to high-sulphur marine fuel to all-time lows at the world's three largest bunkering hubs.
The premium of 0.5pc sulphur marine fuel oil (0.5pc fuel oil) over 3.5pc sulphur 380cst marine fuel oil (3.5pc fuel oil) has narrowed most sharply in Fujairah. Since 30 December last year — when it was at its highest — the premium has come down by 72pc, from $497.50/t to $140.50/t yesterday.
In Rotterdam it dropped by 60pc from a high of $309.50/t on 30 December to $125/t yesterday. The equivalent barge fob price premium for 0.5pc sulphur fuel oil fell even more steeply in Rotterdam over the period, dropping by 64pc from $323.25/t on 3 January to $116.50/t yesterday. Rising European fuel oil supply and inflows from Scandinavia weighed on 0.5pc fuel oil fob barge prices. Fuel oil output in the EU-16, including high and low-sulphur fuels, was at its highest in January since April 2019 at 1.08mn b/d, Euroilstock data showed. Fresh 0.5pc fuel oil production boosted output.
In Singapore the premium has narrowed by 58pc since its widest on 2 January, from $370.50/t to $155.25/t yesterday.
Underlying front-month Ice Brent and Ice gasoil values have contributed to bring the low-sulphur premiums down. But their impact on the premiums has not been as sharp as the drop in 0.5pc fuel oil prices.
Front-month Ice Brent and Ice gasoil prices came down by 20pc and 24pc, respectively, between 30 December and yesterday. This compares with 0.5pc fuel oil prices, which have fallen by 43pc in Fujairah and 31pc in Rotterdam since 30 December, and 38pc in Singapore since 2 January.
Global 0.5pc fuel oil demand peaked in December amid limited supply logistics as shipowners were scrambling to secure compliant fuel before the IMO's 0.5pc sulphur cap was implemented on 1 January.
Delivery times for 0.5pc fuel oil have improved significantly since the weeks leading up to the sulphur cap. In late November, shipowners had to book eight days in advance to get 0.5pc fuel oil when demand for IMO-compliant fuel started picking up. A barge shortage in Fujairah around the same time caused loading delays of 2-4 days at terminals. Barge queues also limited 0.5pc fuel oil supply in Rotterdam and led suppliers to charge premiums of around $20/t for prompt deliveries.
The price for 3.5pc fuel oil did not collapse around 1 January, as some predicted, but has held up better than 0.5pc fuel oil and 0.1pc sulphur marine gasoil (MGO) prices in 2020. Since 30 December the 3.5pc fuel oil price has fallen by 15pc from $340/t to $290/t in Singapore, held at $279.50/t in Rotterdam, and risen by 10pc from $268.50/t to $295/t in Fujairah.
The US has replaced Singapore as the largest cargo buyer of 3.5pc fuel oil from Russia — the world's largest producer — in 2020, as bunkering demand for the non-compliant product dropped along with delayed scrubber installations. Fresh demand from US refineries resulted in a rebound of 3.5pc fuel oil barge fob prices, driving values in northwest Europe from a low of $179/t on 29 November to $265/t yesterday.
More scrubber-fitted vessels are expected to return to operation in March and April to boost demand for 3.5pc fuel oil, which could add upward price pressure and narrow the spread.
Some suppliers are reassessing demand for 3.5pc fuel oil and possibly allocating more storage and barge tank space to it, which would add downward price pressure.
Follow us on twitter @petrotahlil
Source : Argus
END