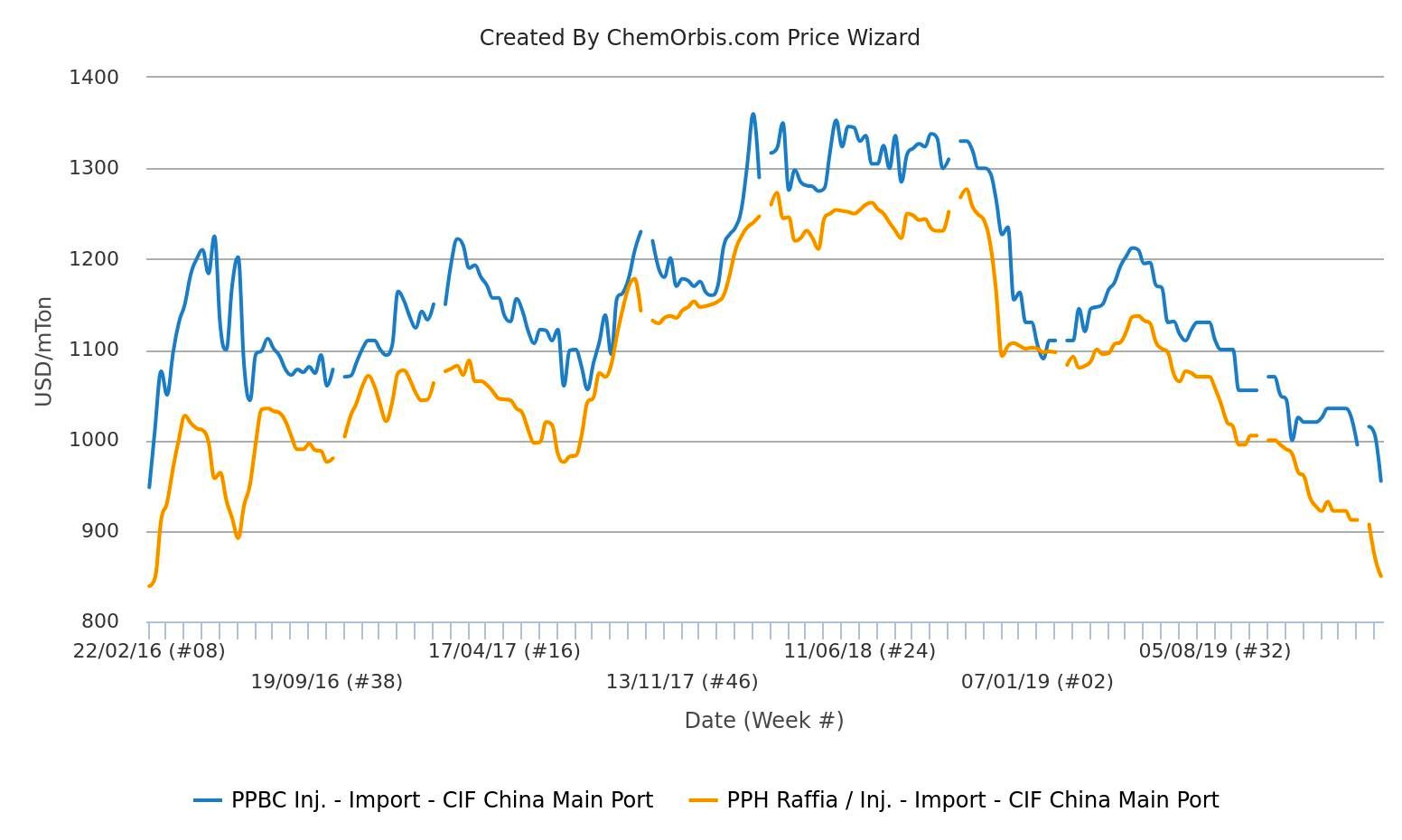 Petrotahlil - The downward trend of PP prices in China has gained speed for the past two weeks since the market returned from the extended Lunar New Year holiday amid a combination of accumulated supplies and muted demand.
Trading activity remains thin in the country as uncertainty prevails over the impact of the coronavirus outbreak on the market.
Prices touch lowest levels since Feb 2016
Data from ChemOrbis Price Index reveal that the weekly averages of import and local PP prices have declined to their lowest levels since February 2016.
The weekly average of import homo-PP raffia and injection prices for overall origins has hit the $850/ton CIF threshold, down 7% when compared to the pre-holiday week. As for PPBC injection, the import market has declined 4% over the same time period.
Domestic polyolefin supplies stand above 1.5 million tons
China has returned from its Lunar New Year holiday with accumulated polyolefin supplies as is the case almost every year. Normally, demand would be expected to be buoyant in the post-holiday period, so high inventories would not be a major problem on the sellers' side.
However, this year, demand has been hit hard by virus fears and, as a result, local supplies have continued to increase. "COVID-19 has delayed the resumption of downstream operations while increasing domestic inventory keeps PP prices under pressure," commented a trader.
According to traders, two major Chinese producers' overall polyolefin stock levels have risen by 70,000 tons from last week to around 1.62 million tons.
Several PP producers in China have now either extended the duration of their maintenance shutdowns or cut operating rates. Some others, meanwhile, have shut their plants due to transport disruptions hindering trade flows.
Factories slowly getting back to work
Measures to combat the spread of the novel coronavirus have delayed plant restarts in the downstream sectors, as people have been trapped in their hometowns due to China's lockdown on certain provinces.
According to a few players, downstream factories across China have started to get back to work recently.
PP futures rebound
Meanwhile, May PP futures on the Dalian Commodity Exchange rebounded on February 14 and have posted a cumulative increase of CNY254/ton ($36/ton) since then.
A few traders in China noted, "Higher futures might support the sentiment in the local market, yet sellers still have high sales pressure amid ample availability."
Follow us on twitter @petrotahlil
Source : ChemOrbis
END