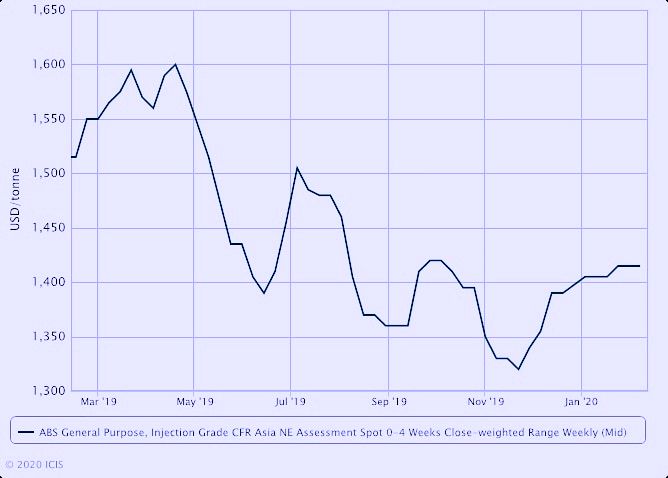 Petrotahlil - Asia's acrylonitrile-butadiene-styrene (ABS) market retreated on tepid demand and soft feedstock costs, with more producers mulling cutting output amid an inventory build-up.
Some suppliers reduced offers by at least $20/tonne to under $1,400/tonne CFR (cost & freight) NE (northeast) Asia in a bid to stoke buying interest.
"Offers from a Korean producer have declined to $1,380/tonne CFR Asia," said a trader in Singapore.
Despite the return of Chinese workers to factories this week after the extended Lunar New Year holidays to contain the spread of the new coronavirus (COVID-19), demand for ABS remained at a low ebb.
ABS is the largest volume engineering thermoplastic resin and is used in automobiles, electronics, appliances and recreational products.
Meanwhile, some producers in China and Asia have reduced output while others pondered the same in the near term. Stocks have accumulated in recent weeks as buying interest remained lacklustre.
The cut in production rates could serve to cushion the price fall as weak demand is met by reduced supply.
Falling feedstock costs have also weighed down on ABS values.
Key feedstock styrene monomer (SM) tumbled in the week of 3 February - when the Chinese market re-opened after the holidays - to the low-$800/tonne CFR China levels.
Other feedstocks acrylonitrile (ACN) and butadiene (BD) prices also lost ground and exerted downward pressure on ABS numbers.
"Customers are asking lower at $1,350-1,360/tonne CFR NE Asia," said a producer in Taiwan.
Follow us on twitter @petrotahlil
Source : ICIS
END