China's automobile and synthetic textile industries have seen operations brought to a languid pace amid the virus outbreak. This means lower demand for plastic goods that go into the manufacturing of automobiles, packaging for electronics and textiles used in clothing manufacturing around the world. Ultimately, this feeds upstream into lower demand for chemical feedstocks and overall oil demand.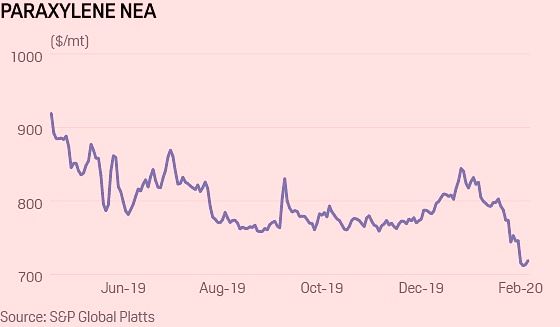 Petrotahlil - Hubei, the region at the center of the coronavirus outbreak, is one of the largest car manufacturing provinces in China and is home to production plants for GM, PSA Group, Nissan, Honda and Dongfeng Motor. The region is on a lockdown amid the virus outbreak and workers will not return to work until February 9. Eleven other provinces in China had also announced plans to extend work returns by another week. In total, these provinces are responsible for over 70% of Chinese automotive manufacturing.
In 2019, China car manufacturing volumes where 25.77 million units, according to the China Association of Automobile Manufacturers. This means the virus has currently shut down about 18 million units of car production on an annualized basis. This is a severe hit to polymers, which are used extensively in car manufacturing, as new cars can contain up to 200 kg of plastics.
Polypropylene is the most widely used plastic in car manufacturing and accounts for about 40% of the plastics used. This equates to 2 million mt per year of polypropylene demand for car manufacturing in China, or 2.5% of the global polypropylene demand in 2020.
The chart below shows the loss to Chinese car manufacturing under different scenarios. In a severe case, in which plants fail to come back online for a month, China produce 2 million less vehicles.
As mentioned, a variety of petrochemicals are used in car manufacturing and include polyethylene, polyurethane, PVC and acrylonitrile. This reduction in car production will back into these other supply chains and cause parts suppliers to shut down temporarily, if they haven't done so already.
In addition, tires must be manufactured for new vehicles. A main building block of tire production is butadiene, which will also see a hit to demand with lower auto production and sales. This will then back into the ethylene crackers and naphtha markets where co-product butadiene will provide less of a coproduct uplift for ethylene producers based on naphtha feedstock.
The same holds true for lower aromatic prices which will not help naphtha feedstock economics relative to LPG. Therefore we expect maximum LPG feedstock demand in the flexible feedstock crackers to begin this month.
POLYESTER CHAIN ALSO HIT
The polyester chain has also been hit since the outbreak of the virus. The majority of China's textile and polyester production is located along the East Coast of China and the extension of the plant shutdowns has meant lower demand for building blocks MEG, PTA and paraxylene. Both PTA and polyester inventories have increased during the holiday in China and there are talks to cut operating rates if downstream textile sector could not resume back soon.
China's Hanbang Petrochemical, also known as China Prosperity Jiangyin Petrochemical, shut Monday its 700,000 mt/year PTA line at Jiangyin, Jiangsu, without a clear restart timelines, market sources said Tuesday.
Margins for paraxylene to PTA production still remain positive but prolonged outages at the global centre for polyester production will mean that paraxylene will need to find another home. Most likely, refinery operators will look to cut aromatics extraction rates and blend the reformate feedstock into gasoline if the economics work. However, that will be pushing more octane into an already depressed gasoline market, which is facing its own issues caused by the virus outbreak and transportation slowdown in China.
Follow us on twitter @petrotahlil
Source : Platts
END