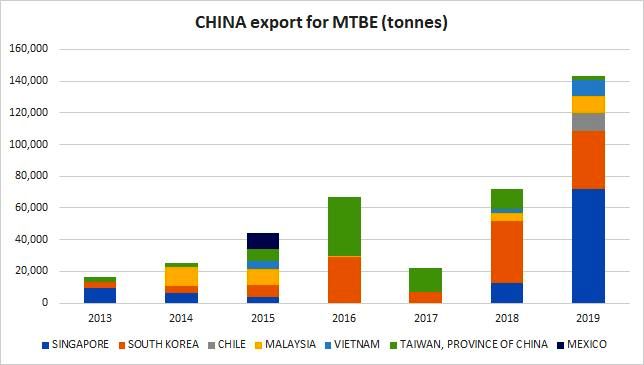 Petrotahlil :Asia's supply of methyl tertiary butyl ether (MTBE) will further lengthen in 2020, with two new plants in Malaysia and China expected to achieve on-spec production soon.
Pengerang Refining and Petrochemical (PRefChem) is currently carrying out trial runs at its 750,000 tonnes/year MTBE plant in Johor, Malaysia; while Zhejiang Petrochemical is conducting test runs at its 150,000 tonne/year unit, with on-spec production due by end-of 2019 or early January 2020.
Malaysia will turn into an exporter of MTBE and high-octane gasoline products once its 300,000 bbl/day integrated crude refinery and petrochemical plant in Johor becomes fully operational.
Meanwhile, output from the Zhejiang Petrochemical's MTBE plant, which is situated near a shipping channel, could be easily exported amid overcapacity in the local gasoline market.
MTBE is used as an octane booster in gasoline.
In 2019, Asia added 1.22m tonnes/year in new MTBE capacity.
"We expected China's exports in 2020 to double from 2019, reaching over 300,000 tonnes," a China-based producer said.
MTBE demand from the motor gasoline market is likely to be underpinned by specification upgrade and the 2020 International Maritime Organisation (IMO) regulations on bunker fuels.
Meanwhile, as 2020 is a critical year for China's E10 ethanol fuel mandate, market players will also watch closely the implementation status of E10 fuels.
E10 fuel refers to a gasoline blend with 10% ethanol, which completely replaces MTBE as the permitted oxygenating additive.
In the second half of 2019, spot MTBE prices were driven up by the consequent tightening of oil products supply in the wake of the 14 September attacks on Saudi Arabia's oil facilities.
In the first half of 2019, prices were mainly driven by supply-side factors, as new capacities that came on stream coincided with turnarounds at Middle East plants.
China's import window had opened only for a short period ahead of the Lunar New Year in January and before the week-long National Day holidays in October. It may stay shut in 2020.
The CFR China-FOB Singapore spread averaged at minus $2/tonne from January to November 2019.
Amid worries of a further economic slowdown and decline in motor vehicle sales, China's MTBE producers were eyeing term export contract in 2020 to rebalance their key domestic market.
Thanks to the new capacities, importers outside of China concluded term contracts on a cost-and-freight (CFR) basis at lower prices, down $3-5/tonne from 2019 levels, despite expectations of higher freight rates as IMO 2020 regulations take effect.
Follow us on twitter @petrotahlil
Source :ICIS
END