China aims to grow its domestic petrochemical production during the next 5 yr–7 yr, driven by the ongoing modernization of major production facilities and an increase in foreign investments.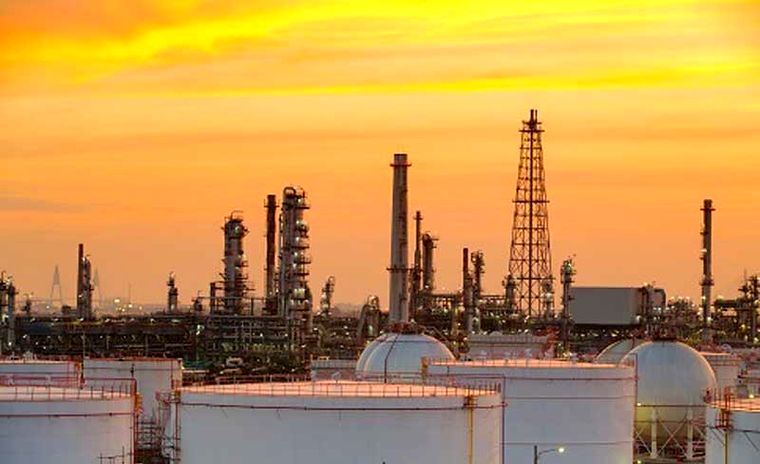 Petrotahlil :China aims to grow its domestic petrochemical production during the next 5 yr–7 yr, driven by the ongoing modernization of major production facilities and an increase in foreign investments. According to a report by the Chinese Federation of Petroleum and Chemical Industry (CFPCI), the Chinese petrochemical industry's aggregate profit in 2018 grew by more than 30% on the year, to 839.39 B CNY ($125 B). In addition, the level of profitability of the industry increased by 6.8% to the highest figure since 2012.
CFPCI analysts expect the industry to achieve at least the same growth rates this year, due to continued demand for Chinese petrochemicals, both in the domestic market and abroad, as well as recently announced plans by major local producers to add a dozen petrochemical mega-complexes along the country's east coast over the next 5 yr. Most of these plants will be situated on islands or peninsulas far from civilian settlements, to contain environmental risks.
The CFPCI predicts that the total volume of ethylene, propylene and aromatic petrochemicals produced in the Asia-Pacific region will increase by more than two-thirds by 2035, with China at the forefront.
Representing significant demand growth, China's domestic consumption of ethylene is expected to expand by up to 26.8 metric MMtpy by the beginning of 2020, compared to 18.7 metric MMtpy in 2015. Furthermore, China is anticipated to add approximately 11.63 metric MMtpy of polypropylene capacity by 2023. A large percentage of this extra capacity will come from a planned, major addition at Sinopec-owned Wuhan Petrochemical Co.'s Wuhan Polypropylene Plant 2, which will have a capacity of 1.1 metric MMtpy by 2023.
Foreign investments
China has recently seen an influx of investment by foreign firms. For example, Saudi Arabian oil and gas major Saudi Aramco plans to participate in the implementation of at least two major Chinese petrochemical projects this year.
One project includes the construction of an oil refining and petrochemical production complex in Liaoning Province in northeast China. The refinery will have a processing capacity of 300,000 bpd and produce 1 metric MMtpy of petrochemicals, primarily ethylene.
Saudi Aramco will also take part in the construction of a new refinery and petrochemical facility in Zhejiang Province in eastern China. The refinery will have a processing capacity of 400,000 bpd. The combined cost of both projects is estimated at $20 B.
These investments will not only be beneficial to China. They will also help Saudi Arabia restore its position as a leading supplier of oil to China—a title the Kingdom has lost to Russia in recent years.
The Saudi Aramco investments are just the beginning, however. The Chinese government hopes to attract more foreign investors to its petrochemical sector over the next few years, despite considerable tightening of environmental standards and regulations for the domestic petrochemical and chemical industries. The stricter standards are the result of state inspections of chemical enterprises in response to an accident at a polyvinyl chloride (PVC) plant operated by ChemChina.
Industry modernization
Along with foreign investments, a second driver for China's petrochemical industry is the impending modernization and optimization of the country's large petrochemical facilities. Most leading domestic producers—including Sinopec and China National Petroleum Corp. (CNPC)—have announced such plans. The companies aim to boost efficiency by incorporating newer production technologies.
An example is the greater use of oil as a raw material in domestic petrochemical production. The goal is to increase oil use to the level of Western countries, where about 10% of produced oil is supplied to petrochemical plants. At present, China uses large quantities of coal in its petrochemical production; however, a gradual shift to the use of naphtha and cleaner raw materials will displace some of this volume.
According to data from the Chinese Ministry of Commerce, average capital expenditures for the construction of pyrolysis facilities in China are still 1.5 times lower than in the EU and 2.3 times lower than in Russia and other emerging nations. The construction of new petrochemical facilities in China usually does not take more than 2 yr. Due to these benefits, China has been able to double the capacities of its pyrolysis units in recent years and is planning further expansion within the next decade.
Tariff adjustments
In the meantime, the Chinese government plans to continue providing support to domestic petrochemical producers, despite ongoing pressure from the US. This support will come in the form of partial compensation of tariffs, as well as subsidization of rental charges and other fees.
Other planned state support will be in the form of tax benefits. The Chinese government cut the value-added tax (VAT) rate for the manufacturing sector from 16% to 13% in April. Petrochemicals such as MTBE and aromatics, which face import duties of 4%–30%, will see 3.12%–3.9% reductions in import costs as a result of the new VAT rates. However, the government also plans to implement more active control of petrochemical capacities to prevent excess supplies from moving to the domestic market.
Follow us on twitter @petrotahlil
END