The Northwest European naphtha market has continued to struggle with cracks reaching a 29-week low late-last week, but the weakness upstream has yielded downstream benefits for petrochemical makers as cracker margins have hit a near two-year high.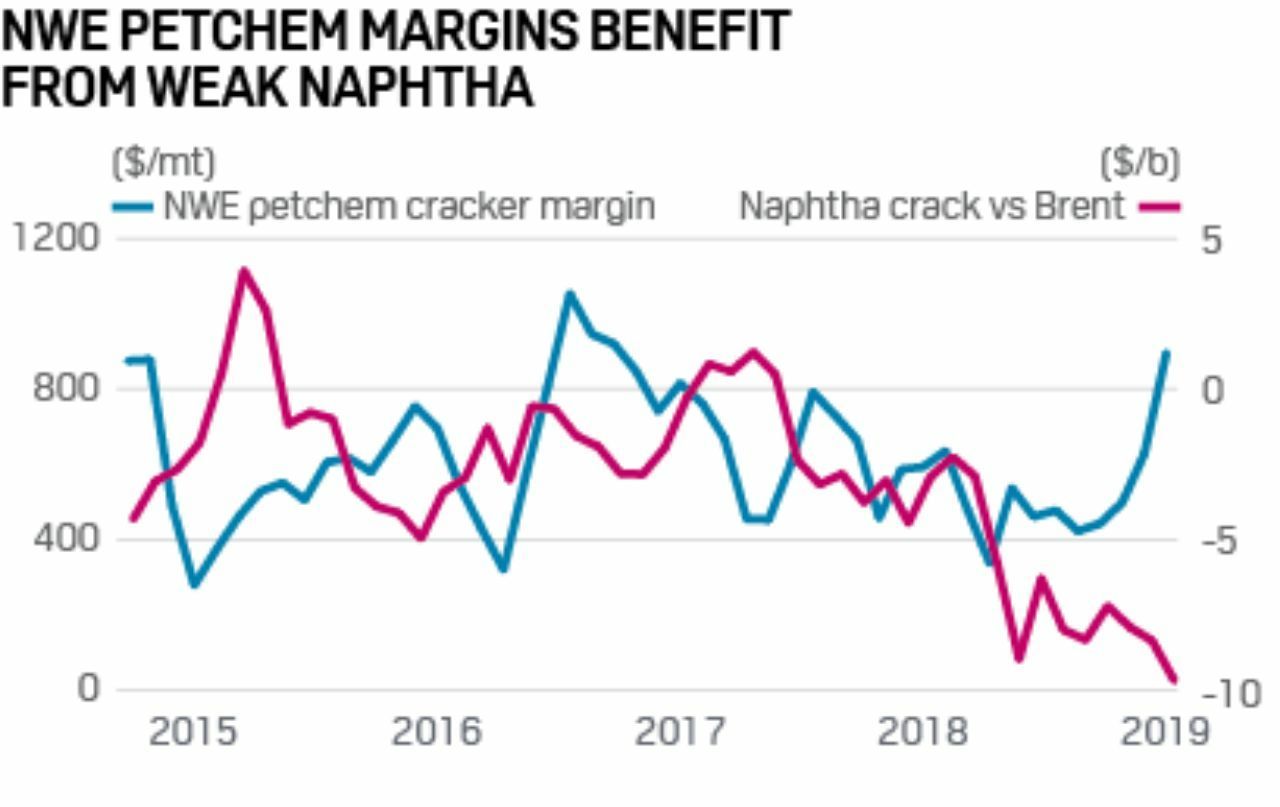 Petrotahlil:
NWE petchem cracker margin hits $960.80/mt, highest since 2017
Naphtha lacks support from gasoline blenders, export markets
Asia naphtha crack plumbs 11-year lows to minus $12.50/mt
The CIF NWE naphtha crack spread against ICE Brent weakened to more than minus $90/mt Friday.
The crack has fallen $25/mt since the end of April as demand has been poor from the gasoline pool as a blendstock and for exports to Asia, two key outlets for European naphtha.
When gasoline blending demand is weak, Europe is typically able to export its surplus naphtha to Asia. But the Asian market has also fallen on hard times with cracks at close to 10-year lows and steam crackers opting to switch as much as possible to even cheaper LPG as a feedstock.
With fewer outlets for European naphtha, Northwest European petrochemical producers have been able to reap the rewards.
NWE petchem cracker margins climbed as high as $960.80/mt late last week, the highest margins have been since early May 2017 when they were at $1040/mt, according to Platts data.
Planned and unplanned steam cracker outages in Europe this spring have also supported downstream ethylene and propylene prices.
Olefins premiums to naphtha strengthened last week as a result, with spot deals for polymer-grade propylene heard at a 1%-2% premium to the industry settled contract price, and ethylene hovering around contract levels.
"Margins are good, if you can produce," a source said, adding that with plant issues, several producers were not able to take advantage of healthy margins.
TURNAROUND IN ASIA DEMAND NOT PROMISING
If European suppliers are looking at Asia for eventual an outlet for their naphtha, Asia's recovery may not come soon enough.
The CFR Japan naphtha crack against August ICE Brent slumped to a near 11-year low last Friday at minus $12.50/mt, the weakest it's been since December 2008.
"Asia naphtha physical cracks flipped to a discount for the first time in a decade ... battered by ballooning supplies and outages in crackers which choked off demand," said Sukrit Vijayakar, director at Trifecta Consultants.
Spot buying interest on steam cracking grade naphtha was limited as petrochemical producers received maximum nominations on the operational tolerance of their term volumes in lieu of the tumble in flat prices.
This led to reduced demand for spot barrels.
In addition, many steam cracker operators were using LPG as a feedstock due to the wide discount between LPG and naphtha, biting into demand for naphtha.
"Growing supplies of alternative LPG feedstock made the situation worse for naphtha sellers as buyers have a cheaper option," Vijayakar added.
The weak market was also reflected in a deepening contango between the first cycle and third cycle, which hit a near seven-month low of $4/mt last Friday.
Further down the curve the weaker sentiment was also reflected further down the curve with the Q3/Q4 spread falling to minus $2.75/mt on Friday, marking the lowest level since February 8 when it was assessed at minus $3.58/mt.
With Asia's weakness the East-West spread -- the spread between CFR Japan and CIF NWE naphtha cargoes -- narrowed to $9.25/mt Friday, the narrowest since August 2018.
UPSTREAM CONDENSATE IMPACT
Another downside to Asia's weak naphtha is being felt in the condensate markets, where despite sanctions on Iranian South Pars differentials are under pressure.
Australia's naphtha-rich North West Shelf condensate's discount to Asia Dated Brent fell to $4.25/b Tuesday, out nearly since May 20.
As a result, traders expected August loading cargoes to trade lower than for July cargoes.
July barrels traded at discounts between $3.5-$4/b.
"The concern for the market is how the poor naphtha margins are going to affect demand in the region," a trader said.
END